Vape Sales Soared in 2022, Especially Flavors Appealing to Youth
By Steven Reinberg HealthDay Reporter | Copyright © 2022 HealthDay. All rights reserved.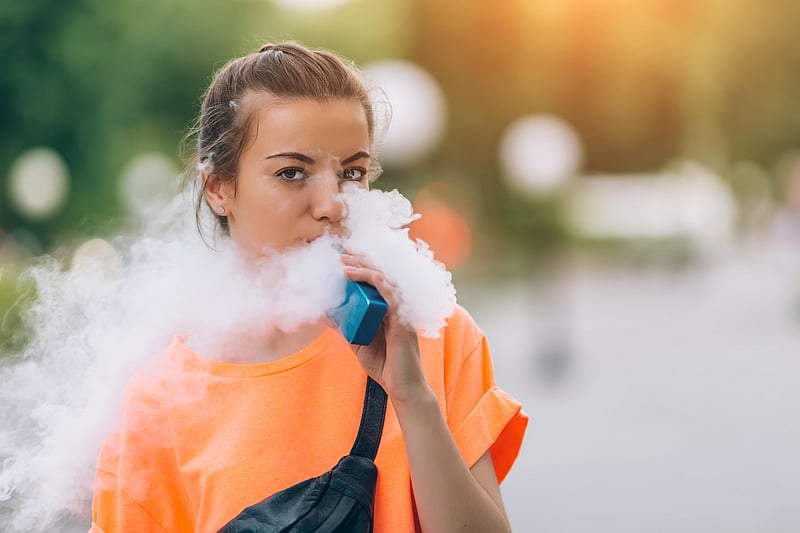 THURSDAY, June 22, 2023 (HealthDay News) -- Despite a federal ban that has removed many flavored vapes from the U.S. market, monthly e-cigarette sales jumped 47% in the first two years of the pandemic, a new government study shows.
"The surge in total e-cigarette sales during 2020-2022 was driven by non-tobacco flavored e-cigarette sales, such as menthol, which dominates the prefilled cartridge market, and fruit and candy flavors, which lead the disposable e-cigarette market," said lead study author Fatma Romeh Ali, a health economist at the CDC Foundation.
Sales of menthol-flavored electronic cigarettes remained stable, while other flavored products — which include fruit, clove/spice, candy/sweets and chocolate — increased from 29% to 41%, the researchers from the U.S. Centers for Disease Control and Prevention found.
"The tobacco industry is well aware that flavors appeal to and attract kids, and that young people are uniquely vulnerable to nicotine addiction," Robin Koval, CEO and president of the Truth Initiative, said in a CDC news release. "While we are encouraged by FDA's recent actions to curb unlawful marketing of flavored e-cigarettes, we all must work with even greater urgency to protect our nation's youth from all flavored e-cigarettes, including disposables."
Why hasn't the ban, issued in early 2020 by the U.S Food and Drug Administration, prompted drops in vaping?
The FDA ban was on products using flavored cartridges and pods, and it did not include tanks or disposable flavored e-cigarette products that soared in popularity after the ban. Menthol vapes were also not part of the ban.
"It really gets to the issue of, if you want to meaningfully restrict the use of flavored products, you really need to close those loopholes," Deborah Ossip, a professor in the department of public health sciences and Center for Community Health and Prevention at the University of Rochester Medical Center in New York, told HealthDay recently. "And to combine that with the program of enforcing the regulations, and I think a very large public awareness campaign about why that's happening, because there's a lot of confused messaging around use of flavored products and e-cigarettes."
Ossip was the author of a survey published last November that found most adult vapers switched to flavored products not covered by the ban, or even went back to smoking traditional cigarettes.
In the latest study, published June 22 in the CDC's Morbidity and Mortality Weekly Report, the researchers used retail sales data but didn't include purchase age or sales data from tobacco specialty stores, including vape shops and internet retailers.
The researchers also found that sales of prefilled e-cigarettes dropped from 75% to 48%, while sales of disposable e-cigarettes increased from 25% to 52%.
During December 2022, the five top-selling e-cigarette brands in the United States were Vuse, JUUL, Elf Bar, NJOY and Breeze Smoke, respectively, the CDC report found. Elf Bar has emerged as the top-selling disposable brand in the United States. Now marketed as EBDESIGN, it was the top disposable brand reported among a sample of youth aged 16 to 19 in August 2022.
Strategies to curb e-cigarette sales should include restrictions on the sale of all flavored tobacco products, including all e-cigarettes, menthol cigarettes and flavored cigars, coupled with youth prevention strategies, such as price increases and comprehensive smoke-free policies that prohibit the use of both e-cigarettes and smoked tobacco products indoors, the CDC said.
More information
For more on vaping and teens, head to the U.S. Centers for Disease Control and Prevention.
SOURCE: U.S. Centers for Disease Control and Prevention, news release, June 22, 2023