Use of Hair Relaxers Raises Women's Odds for Uterine Cancer
By Denise Mann HealthDay Reporter | Copyright © 2022 HealthDay. All rights reserved.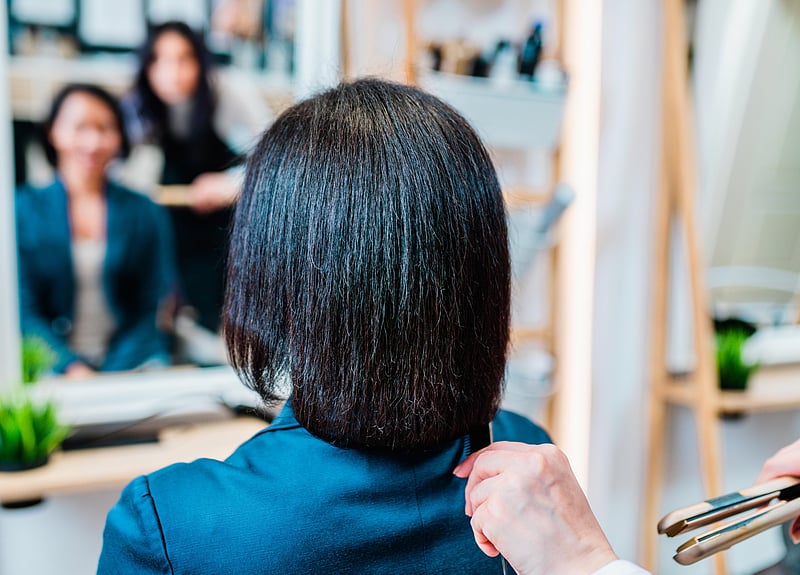 FRIDAY, Oct. 13, 2023 (HealthDay News) -- Older Black women who use chemical hair relaxers may be more likely to develop uterine cancer, new research suggests.
Specifically, postmenopausal Black women who reported using hair relaxers more than twice a year or for more than five years had more than a 50% increased risk of being diagnosed with uterine cancer compared to women who rarely or never used relaxers.
"Black women have higher rates of aggressive uterine cancer and are nearly twice as likely to die from their disease," said study author Kimberly Bertrand, an associate professor at Boston University Chobanian & Avedisian School of Medicine. "Black women also tend to be underrepresented in research and may be experiencing unique exposures such as the use of chemical hair relaxers, which are heavily marketed to and used by Black women to straighten their natural hair."
Exactly how chemical relaxers increase uterine cancer risk isn't known, but researchers do have some theories.
"These products are only loosely regulated and are known to contain potentially harmful ingredients including chemicals known as endocrine disruptors, which can be absorbed," Bertrand said. "Research has linked these chemicals to a wide range of women's reproductive health outcomes, and animal data and laboratory evidence suggest this is a plausible association."
The study didn't collect information on brands of hair relaxers or products that women used, so researchers can't pinpoint any specific chemicals linked to the cancer.
For the study, the investigators asked nearly 45,000 participants in Boston University's Black Women's Health Study about their past use of chemical hair relaxers. None had a prior history of cancer.
The women were followed for up to 22 years. The researchers compared rates of uterine cancer among those who reported frequent or long-term use of hair relaxers to rates among women who never or rarely used them.
The study found that older postmenopausal women who commonly used hair relaxers had higher rates of uterine cancer. These findings held even after the researchers controlled for other factors known to increase uterine cancer risk such as weight, use of hormone replacement therapy, family history and smoking.
"The results will continue to raise awareness of the potential toxic effects of chemical hair relaxers and help us think about ways to reduce risk and exposure," Bertrand said.
Her advice?
"If you are at high risk for uterine cancer due to obesity or family history, you should be more concerned about external exposure that can further increase your risk such as use of chemical relaxers," she advised.
Bertrand noted Black women have been routinely discriminated against for their natural hairstyles, but this may be changing.
The U.S. House of Representatives last year passed the CROWN Act, which prohibits racial discrimination based on hair texture and style. It has yet to pass the U.S. Senate, where Republicans blocked it last year.
Twenty-three states already have their own CROWN laws, according to an advocacy group called the CROWN Coalition. CROWN is short for Creating a Respectful and Open World for Natural Hair.
"The CROWN Act could represent an important step toward reducing racial disparities in uterine cancer," Bertrand said.
The study findings were published online Oct. 10 in Environmental Research.
Hair experts not involved in the study said the findings add to a growing list of harms associated with use of chemical relaxers.
"This study is really important because we still have so many people of African descent that continue to use relaxers," said Dr. Meena Singh, a dermatologist in Shawnee, Kan.
Relaxers can damage the hair, making it increasingly fragile, she said. Hormone-disrupting chemicals in relaxers have also been associated with early puberty.
"The harms don't just extend to hair, and now, this study suggests there may be an increased risk of uterine cancer as well," Singh said.
Dr. Sumayah Jamal, director of the Skin of Color Clinic at Schweiger Dermatology Group in New York City, said this research will change how she counsels Black women about the use of chemical hair relaxers.
"In light of these findings, I would caution against the use of chemical hair relaxers and counsel the adoption of natural hairstyles or safer alternatives to hair straighteners," Jamal said.
Calling the data "compelling," Dr. Amy McMichael stressed that more research is needed before making any definitive conclusions on the risk of uterine cancer among women who use hair relaxers. She is a professor of dermatology at Wake Forest School of Medicine in Winston-Salem, N.C.
She noted that the study didn't say whether the chemical relaxers were used at home or in a salon.
"This could be important since home use may increase the risk of irregular application of the product and/or inadequate scalp protection during application," McMichael said.
Other factors such as genetic predisposition toward the cancer may also be at play, she said.
"For now, it certainly makes sense to discuss these findings with those patients who are questioning the safety of chemical relaxers," McMichael said.
More information
The U.S. National Cancer Institute has more on uterine cancer.
SOURCES: Kimberly Bertrand, ScD, associate professor, medicine, Boston University Chobanian & Avedisian School of Medicine; Meena Singh, MD, dermatologist, Shawnee, Kan.; Sumayah Jamal, MD, PhD, director, Skin of Color Clinic, Schweiger Dermatology Group, New York City; Amy McMichael, MD, professor, dermatology, Wake Forest School of Medicine, Winston-Salem, N.C.; Environmental Research, Oct. 10, 2023, online