'Time Is Brain': More Americans Waiting Longer for Best Care After Stroke
By Amy Norton HealthDay Reporter | Copyright © 2022 HealthDay. All rights reserved.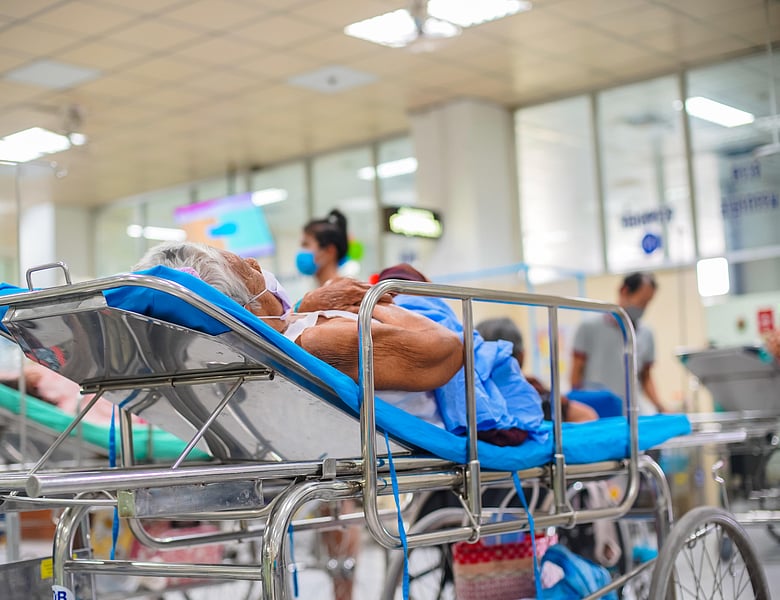 MONDAY, Aug. 21, 2023 (HealthDay News) -- When people suffering a stroke need a transfer to another hospital, time is of the essence. But a new study finds that most Americans in that situation face delays.
The study, published recently in the Journal of the American Medical Association, looked at the issue of "door-in, door-out" times in stroke care. That is, how long do patients have to wait from the time they arrive in the emergency department (ED) until they are transferred to a hospital that can provide advanced stroke care?
The answer, in most cases, was too long: About 73% of U.S. stroke patients had to wait for over two hours — or beyond the goal that experts have set for stroke transfers.
The study cannot pinpoint the reasons, said senior researcher Dr. Shyam Prabhakaran, a professor of neurology at the University of Chicago Medicine.
But there are multiple places along the line where bottlenecks can form, he said.
When patients first arrive in the ED, they may have to wait to be evaluated, or there may be a traffic jam in getting them to a CT scanner or other imaging that is used to diagnose a stroke. There might also be delays in getting another hospital to accept the patient or in arranging transportation.
And unfortunately, the study found, some Americans were more likely than others to face prolonged wait times: Women typically waited longer for a transfer than men did, and Black and Hispanic patients waited longer than their white counterparts.
Prabhakaran called those findings "disappointing," and said the underlying reasons are unclear. But studies have found such disparities across many areas of medical care, and this is yet another example, he said.
"This is a clarion call to health care systems," Prabhakaran said. "We need to do a better job."
A stroke expert who was not involved in the study said it provides important information.
"Hopefully, these data can be leveraged for future quality-improvement programs, to reduce door-in, door-out times overall, and to reduce or eliminate disparities," said Dr. Michael Mullen, director of the stroke program at Temple University Hospital, in Philadelphia.
Mullen, who is also a volunteer expert with the American Heart Association (AHA), said there are take-aways for the general public, too.
In one finding, patients were typically transferred faster if they arrived at the ED by ambulance and paramedics had notified the hospital they were bringing in someone with a suspected stroke.
So, Mullen said, people should always call 911 if they or someone else has possible stroke symptoms — rather than going to the ED on their own.
"Time is critically important," he said, "so they should call 911 immediately."
Strokes occur when blood flow to the brain is suddenly disrupted, causing symptoms like weakness or numbness in the face, arm or leg, trouble speaking, confusion or difficulty walking. Most strokes are of the ischemic variety, which means a blood clot in an artery supplying the brain is the problem. Some strokes are hemorrhagic, caused by a ruptured vessel that bleeds into the brain.
When ischemic strokes are caught early enough, doctors can give IV medications that break up the blood clot. Most U.S. hospitals are capable of doing that, Prabhakaran said.
Often, though, those patients still need a transfer to another hospital capable of more advanced treatments, including surgical procedures. Patients suffering hemorrhagic strokes frequently need a transfer as well.
The new study is the first to look at door-in, door-out times on a broad, national level, according to Prabhakaran.
And unfortunately, he said, "it's actually worse than we thought."
The researchers used records from a national database maintained by the AHA, with the goal of improving stroke patients' care. From 2019 through the end of 2021, nearly 109,000 stroke patients were transferred from 1,925 hospitals participating in the program.
Nearly three-quarters of those patients, the study found, had to wait over two hours from the time they arrived at the first hospital until they departed for transfer. That does not include the travel time to the next hospital.
Overall, the median wait time was 174 minutes, or nearly three hours. "Median" means that half of all patients waited longer than that.
Meanwhile, the median wait time for women, Black and Hispanic patients was 5 to 8 minutes longer, versus men and white patients.
Prabhakaran agreed that for the general public, the "time is brain" message is critical.
"Always call 911," he said. "That's better than walking into the ER."
But everything along the chain after that 911 call has to come together, too, Prabhakaran said.
He and his colleagues are now running a clinical trial that's testing different strategies for cutting door-in, door-out times. The hope is to help smaller hospitals evaluate stroke patients more efficiently, and speed up the transfer process.
More information
The American Heart Association/American Stroke Association has more on stroke treatment.
SOURCES: Shyam Prabhakaran, MD, MS, professor, chair, department of neurology, University of Chicago Medicine, Chicago; Michael Mullen, MD, associate professor, neurology, Lewis Katz School of Medicine at Temple University, director, stroke program, Temple University Hospital, Philadelphia, volunteer expert, American Heart Association, Dallas; Journal of the American Medical Association, Aug. 15, 2023