Think You're Not a 'Helicopter' Parent? New Poll Finds Many Are
By Alan Mozes HealthDay Reporter | Copyright © 2022 HealthDay. All rights reserved.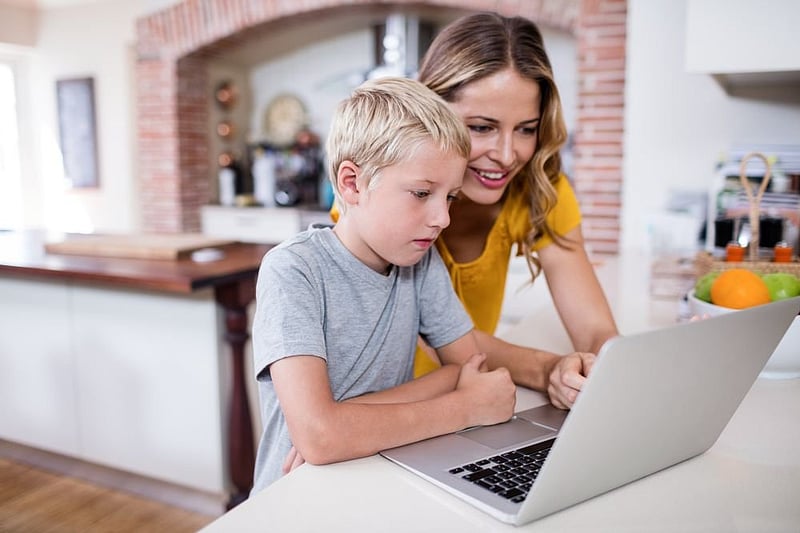 MONDAY, Oct. 16, 2023 (HealthDay News) -- As kids grow up, their desire to venture out on their own and gain some independence is natural.
And a new national poll suggests that most parents say they're fine with that.
The problem? The poll highlights a pretty big gap between what parents say and what they actually allow, with many choosing to keep their kids on a pretty short leash.
"We wanted to see if parents are consistent between what they say and what they do with respect to fostering independence," explained poll co-director Sarah Clark, a research scientist in the Department of Pediatrics with the Child Health Evaluation and Research Center at the University of Michigan Medicine.
"We thought there would be a gap, but we didn't think it would be this big," Clark admitted. "There are a lot of kids who are not getting enough growth opportunities, but parents don't necessarily recognize it."
In the Oct. 16 issue of the Mott Poll Report, Clark and her colleagues report they enlisted more than 1,000 randomly selected parents for their survey. All were parents of kids between the ages of 5 and 11.
Among parents of kids between the ages of 9 and 11, roughly 84% said they agree that free time without adult supervision is a good idea.
Among parents of younger kids between the ages of 5 and 8, nearly three-quarters said they actually make a point of letting their kids do things on their own, whenever feasible.
But did theory translate into practice? Not so much.
Among parents of the 9-to-11 set, 58% let their kid stay home alone for a half hour to an hour, and only half reported letting their child wander alone into another store aisle when shopping.
In a similar vein, just 44% said they had left their kid in the car while running out to do an errand, and even fewer -- just a third -- said they let their child bike or walk to a friend's house on their own.
Less than a third permitted playtime in a park without adults present. And most parents of tweeners -- 85% -- said no to the notion of letting their kids trick-or-treat on their own on Halloween.
Parents of younger children were certainly no more lax, the survey found.
Less than a quarter said they let their 5-to-8-year-olds talk to an adult stranger in a business situation, such as ordering in a restaurant, while only a fifth let their child prepare their own food at home. Under a third said they leave allowance spending decisions entirely up to their child, and less than half let their kid talk to a nurse or a doctor on their own when going for a checkup.
So, what's with all the "helicopter" parenting?
Though the poll did not, in fact, deploy this term in their questions, Clark said the biggest issue for independence-averse parents appears to be a "generalized worry that something bad might happen, leading them to believe that they must protect their child from hypothetical bad outcomes."
Indeed, the survey numbers bear this out, with more than half (54%) of parents raising tweeners saying they're worried someone might scare or follow their unsupervised kid… despite the fact that only 17% think their particular neighborhood is too unsafe for unsupervised activities.
About a third also said their child simply isn't ready to be on their own.
Between 11% and 17% said they thought that the law doesn't allow for unsupervised activities among 9- to 11- year-olds, or that someone might call the police on them or judge them for being bad parents.
Among parents of younger kids, motivating factors included concerns about child safety (44%) and/or a lack of child maturity (31%), or the belief that their child wants supervision (34%). About a quarter said they believed unsupervised activities would take too long or turn out not the way the parent wanted.
"The second factor is parent awareness of a hypercritical climate, which again leads them to believe they must protect their child from bad outcomes," Clark said.
In other words, parents are striving to shield their kids from bullying.
The problem is that all of these well-intentioned reasons for wanting to micro-manage youthful activities "may be unintentionally restricting their child's path to independence," the survey team concluded.
"What many parents are missing," cautioned Clark, "is the recognition that over the long term, there are negative consequences to children not having sufficient opportunities to progress toward independence." Unfortunately, she added, "the consequences may not be apparent until young adulthood."
More information
There's more on child-rearing at the Child Mind Institute.
SOURCES: Sarah Clark, MPH, research scientist, Department of Pediatrics, Child Health Evaluation and Research Center, University of Michigan Medicine, and co-director, C.S. Mott Children's Hospital National Poll on Children's Health; Mott Poll Report, Oct. 16, 2023