Suppressing Negative Thoughts Can Sometimes Be Healthy, Study Contends
By Dennis Thompson HealthDay Reporter | Copyright © 2022 HealthDay. All rights reserved.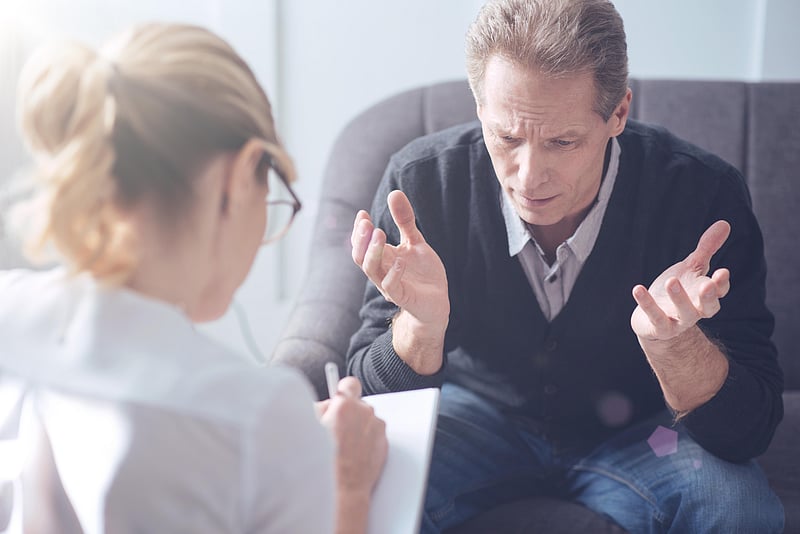 THURSDAY, Sept. 21, 2023 (HealthDay News) -- A longstanding core belief of mental health maintains that people must confront their fears to ease the anxiety and depression stemming from those negative thoughts.
Now a new study argues that, for some people, suppressing negative thoughts and worries might be a more successful strategy.
Mental health actually improved for some study participants after they underwent training to help them suppress their fears about negative events that might occur in the future, researchers report.
What's more, people with worse mental health symptoms at the start of the study experienced more improvement by the end if they learned to suppress their negative thoughts.
The results run counter to arguments that thought suppression is a poor coping process because it's inevitably unsuccessful, said senior researcher Michael Anderson. He is a senior scientist and program leader with the MRC Cognition and Brain Sciences Unit at the University of Cambridge in the United Kingdom.
"For the better part of a century, starting with Freud, we've been told that when you do something like that — pushing distressing, fearful thoughts out of awareness — it comes back to bite you in the form of unconscious influences on your behavior, in your dreams and your emotions and motivations and moves," Anderson explained.
"This conflicts with a growing body of evidence from neuroscience and psychology that, in fact, people can and often do this kind of thing all the time with some success," Anderson added. "All of the signs point to this being something that actually helps us down-regulate, or reduce the memory of unpleasant thoughts."
Despite these findings, published Sept. 20 in the journal Science Advances, some experts argue that a mound of scientific evidence still points to suppression as a harmful means of coping.
"When we think about helping somebody address their fears, simply telling them to ignore the fear or just ignore the thought does not lead to changing any of the underlying core beliefs that have led to this fear in the first place," said Scott Glassman, director of the Master of Applied Positive Psychology Program at the Philadelphia College of Osteopathic Medicine.
Glassman gave the example of someone who is socially awkward and fearful of rejection.
"Every time they go into a social situation, that brings up a core belief of worthlessness, and that core belief that they're not worth other people's time and attention never gets modified," Glassman said. "If you're telling that person, go into the social situations, just don't worry about what people are going to think, well, that person still has that same underlying belief of worthlessness."
The study stems from Anderson's prior research into a brain mechanism known as inhibitory control, or the ability of humans to override their reflexive responses.
"It's the most natural thing in the world for a person to do, really. If something unpleasant comes into your mind and you don't particularly want to think about it right now, you kind push it out of awareness," Anderson said. "Is that something that people should be doing? Is that psychologically healthy to do?"
For this study, Anderson and his colleagues worked with 120 adults from 16 countries, all of whom underwent three days of online training to suppress thoughts.
All of the participants were asked to draw up lists of 20 potential events that were distressing to them (a parent dying from COVID), 36 mundane and neutral events (going to an optician), and 20 joyous or positive events (attending a sister's wedding), Anderson said.
Suppressing negative thoughts worked for some
The participants gave each potential event a title, and provided a one-sentence description of the event and a central detail related to the event, Anderson said. For example, a person fearful of COVID might think of their parent being put on a ventilator.
The research team then repeatedly presented participants with the titles of their various future events.
"You might just see COVID appear on the screen. And if the cue was in red, your instruction would be to first acknowledge the nature of that event. What does it refer to? Oh, it's my fear of my parents getting COVID," Anderson said.
The researchers then asked the participants to stop thinking about the event — not to imagine the event or think of something else, but to just block any images or thoughts the reminder might provoke.
"For the remaining 4 seconds that it was on the screen, you would suppress any elaborative thinking, suppress any mental images that popped into mind, and just sit with that idea, focus on it and just shut down," Anderson continued. "Don't let your mind run amok, shut down your thoughts about it. And then the cue would go off the screen and a cue for a different event would appear on the screen."
The researchers ran through each potential event multiple times for three days in a row, and on the third day asked participants to rate their feelings about each of these imagined future events. Participants also completed questionnaires designed to check their mental and emotional health.
"It really zeroes in on the question what happens to your mental health if you consistently try to suppress the things that are most distressing to you," Anderson said. "And the answer of that is it basically reduced depression, it reduced anxiety, it reduced worry. It had all the beneficial effects that we had anticipated."
Participants retested three months later still had lower levels of depression and negative emotions, although benefits related to anxiety, well-being and positive emotions appeared to have faded, the results showed.
"We didn't instruct them to do anything in those three months. We didn't say keep using this strategy. We just wanted to check in with them again three months later," Anderson noted. "About 80% of the people in our experiment continued to use the strategy, even though not instructed to do so. And the more they used it in that three-month period, the greater the improvement in their mental health in that period."
The researchers were concerned that people with emotional problems like depression, anxiety or post-traumatic stress disorder (PTSD) might not benefit from this approach, because some difference in their brain activity would make them unable to suppress negative thoughts.
"To our great surprise, exactly the opposite happened," Anderson said. "The people who were the most symptomatic at the outset of the experiment — people who were most depressed, who were most anxious, who had the greatest evidence of pandemic-related PTSD — were the ones who gained the largest gains in mental health after the three days of training."
For example, participants with PTSD who suppressed negative thoughts experienced a 16% improvement in negative mental health scores and a 10% improvement in positive mental health, compared to a respective 5% and 1% improvement for those suppressing neutral events.
Further, those people struggling with emotional problems were more likely to continue using the strategy during the three-month follow-up period, Anderson said.
The investigators also found no evidence of a "rebound effect," in which participants would recall suppressed events even more vividly.
The results could point a way forward for dealing with some mental and emotional issues without resorting to medications, Anderson suggested.
Keep calm and carry on
"It suggests that what clinicians should try instead of drugs is something like this, first," he said.
Anderson stressed that suppression is not the same thing as denial.
"Basically with denial, you're simply denying that a problem exists. You're denying a state of affairs. And in no sense are we asking people to do that. In fact, what we're doing here, we're asking people to intentionally confront the situation that puts fear in them," Anderson said.
"We're saying look at the event, acknowledge what it is, and simply train yourself to not get carried away," he added. "As we say here in the U.K., 'Keep calm and carry on.'"
Such suppression occurs naturally during psychotherapy, with patients often avoiding talk of upsetting topics, said Charles Figley, chair in disaster mental health at Tulane University in New Orleans.
"Those things that the practitioner believes are very important get sidestepped, and the client brings up something else instead," Figley said. "And when you come back to it, you discover that they're just fine and dandy without thinking about it. They have been able to move on and do other things."
In fact, some psychological therapies use techniques that could be considered suppression, Anderson said. He pointed to exposure therapy for anxiety as an example.
"It involves exposing you to the thing that makes you distressed or anxious in gradual increments. It's a tried-and-tested technique," Anderson said. "I would speculate is that, what happens with repeated sessions of exposure therapy, exposing people to the reminders of their fear, is that people come to realize that this is not something that I need to be afraid of, and part of the learning process is learning to regulate the distressing thoughts about the event."
But, Glassman noted, other studies have shown that suppression can feed into some mental health problems.
Suppression has been associated with increased cravings, increased rumination and lower levels of mindfulness in people struggling with substance abuse, he said. It's also been tied to increased worry in people with depression.
"Adolescents who tend to suppress emotional experiences, they tended to have higher levels of generalized anxiety and a higher impact of negative future-oriented imagery," Glassman said.
Interestingly, the researchers also asked participants to imagine some happy, positive events, to see if the power of positive thinking would outweigh the suppression of negative thoughts.
"Surprisingly, although imagining positive things did improve your mental health, it didn't improve your mental health any more than imagining completely neutral, benign things, which is to say that it's as good as a placebo effect," Anderson said. "There is no differential effect of imagining positive things. So the main benefit, it seems, is suppressing the negative, not imagining the positive."
More information
HealthDay has more about anxiety.
SOURCES: Michael Anderson, PhD, senior scientist and program leader, MRC Cognition and Brain Sciences Unit, University of Cambridge, United Kingdom; Scott Glassman, PsyD, director, Master of Applied Positive Psychology Program, Philadelphia College of Osteopathic Medicine; Charles Figley, PhD, chair, disaster mental health, Tulane University, New Orleans; Science Advances, Sept. 20, 2023