Summer Backyard Feasts Don't Have to be Unhealthy
By Cara Murez HealthDay Reporter | Copyright © 2022 HealthDay. All rights reserved.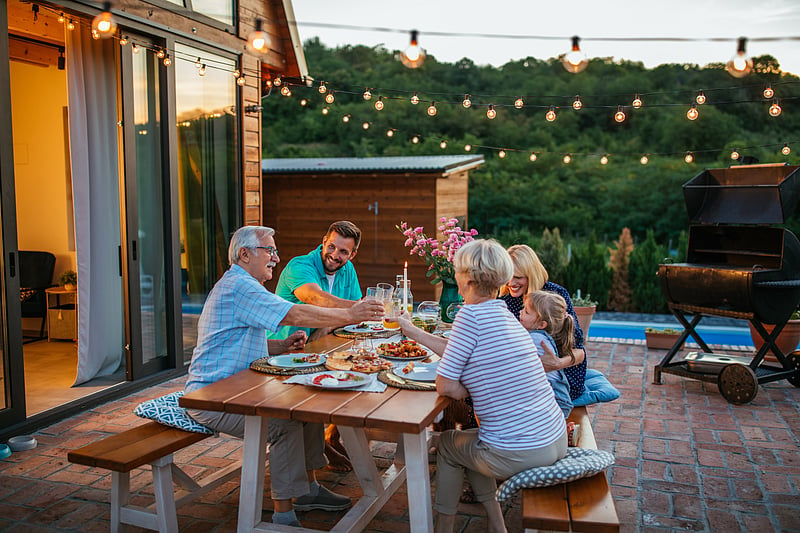 SATURDAY, July 15, 2023 (HealthDay News) -- That backyard cookout can be loaded with fat and sugar, but it doesn't have to be.
It's possible to make some simple swaps and have a meal that's healthy and delicious, a nutrition expert at UT Southwestern Medical Center in Dallas says.
"If you're not ready to replace your entire plate with healthy alternatives, you can still cut down on added sugar and fats by blending your favorites with some healthier options," Lona Sandon, an associate professor in the clinical nutrition department, said in a school news release.
Sandon's suggestions include build-your-own taco salad bowls with plenty of mixed greens, baby spinach and arugula. Offer a mix of toppings, including drained and rinsed canned black beans, diced avocado, black olives, fresh pico de gallo and reduced-fat shredded sharp cheddar cheese. Use corn tortillas instead of a fried shell, Sandon said.
For the grill, choose low-fat lean ground beef (90% or higher) and chicken breasts.
Offer lettuce leaves, dill pickles, sliced onion, tomato and avocado as toppings. Fill half of your plate with vegetables or fruit, such as mixed berries or fresh-cut watermelon, a treat on a hot day.
Sandon offers some other tips for making your favorites a little healthier:
Wings: Take the skin off chicken wings, and bake or grill them instead of deep-frying. Consider grilling chicken pieces instead of traditional wings. Use low-fat sour cream or plain Greek yogurt for dipping, along with your favorite hot sauce.
Barbecue: Use vinegar-based sauces that are lower in added sugars. Lean meat cuts are another healthy grill option. These include sirloin or skinless chicken or turkey breast. Serve your barbecue alongside grilled vegetable kebabs with cut up zucchini, yellow squash, cherry tomatoes, purple onion and sweet potato instead of potato salad.
Ribs: Choose leaner beef ribs instead of pork. Opt for baby back instead of regular ribs. Consider brisket, which can be wrapped in lettuce leaves or top off a salad.
Burgers: Shop for the leanest ground beef or swap out for lean ground turkey, tuna, salmon or a black bean veggie burger. Top with your favorite spices and rubs.
Hot dogs/bratwurst: Lean, all-beef, turkey or soy franks have less saturated fat and fewer calories than bratwurst and are an easy swap. Serve these on wheat buns or corn tortillas.
More information
The American Diabetes Association offers more diet swaps.
SOURCE: UT Southwestern Medical Center, news release, July 7, 2023