Stem Cell Therapy Could Be Breakthrough Against Type 1 Diabetes
By Denise Mann HealthDay Reporter | Copyright © 2022 HealthDay. All rights reserved.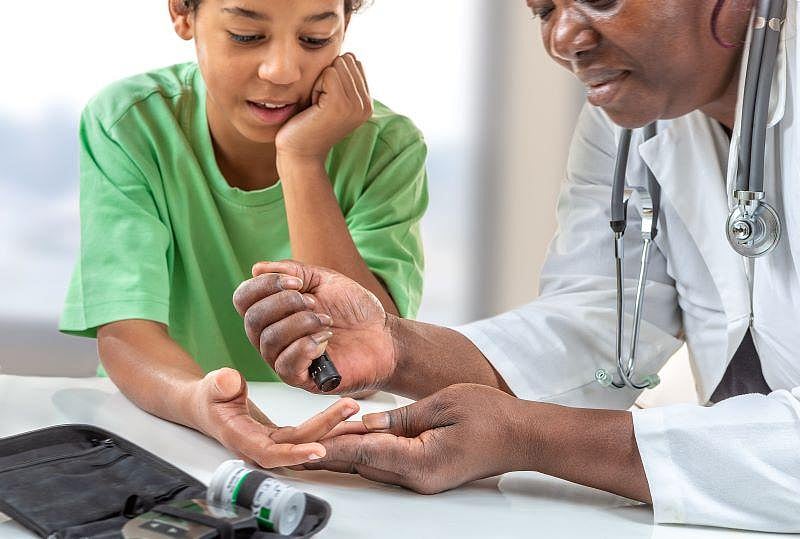 WEDNESDAY, Oct. 4, 2023 (HealthDay News) -- People with type 1 diabetes lack functional islet cells in their pancreas to produce the hormone insulin and must take daily insulin via injections or a continuous pump to compensate.
But if new research pans out, some folks with type 1 diabetes may no longer need to take insulin. The study of six people with type 1 diabetes found that an investigational off-the-shelf form of islet stem cell therapy improves blood sugar control and slashes insulin needs, with three people no longer needing any daily insulin.
Given via an infusion, VX-880 are stem cell-derived, insulin-producing islet cells that essentially replace the dysfunctional islet cells in people with type 1 diabetes. The study was funded by VX-880 maker Vertex Pharmaceuticals.
"Islet cells have the potential to cure diabetes, and I believe this study is a huge step forward in that direction," said study author Dr. Trevor Reichman, surgical director of the Pancreas and Islet Transplant Program at University Health Network's Ajmera Transplant Center in Toronto, Canada.
Type 1 diabetes occurs when the pancreas produces little to no insulin. Insulin is needed to help blood sugar, or glucose, enter the cells, where it is used for energy. When insulin is in short supply, glucose can build up, causing such symptoms as extreme fatigue, blurry vision, weight loss and confusion.
Stem cells can multiply exponentially and morph into different types of cells. The cells used in VX-880 are grown in a lab. Once implanted, they morph into islet cells and can produce insulin.
"They are essentially off-the-shelf but do take several weeks to produce prior to infusion," Reichman said.
In the new study, all six people treated with VX-880 had improved glycemic control, as shown by elimination of severe low blood sugar reactions, improved HbA1c (a snapshot of blood sugar levels over time), and the amount of time their blood sugar levels were in the recommended range within three months.
As a result, these patients needed less insulin or none at all.
"The impact … was truly life-changing," Reichman said. "All of these patients had long-standing, difficult-to-manage type 1 diabetes with life-threatening complications, which included severe hypoglycemic unawareness." Hypoglycemia unawareness means a person can't tell when their blood glucose gets low, so they don't know they need to treat it.
Within three months, this was eliminated in all study participants.
Exactly how long these effects will last is not yet known.
"The longest patient in follow-up is now at two years and maintains insulin independence," Reichman said. The research is ongoing.
The study showed VX-880 is safe, and no serious side effects were reported.
People do need to take immunosuppressant drugs to prevent rejection, which Reichman called a potential roadblock for broader use.
"The future goal is to create a version of the treatment that does not require immunosuppressive therapy," he said.
The study is limited to people aged 18 through 65 years of age, but in the future, kids may be included.
The findings were presented Tuesday at a meeting of the European Association for the Study of Diabetes, in Hamburg, Germany. Findings presented at medical meetings should be considered preliminary until they are published in a peer-reviewed journal.
Dr. John Buse is the director of the Diabetes Care Center at the University of North Carolina, Chapel Hill.
"The important thing here is that people do not need organ donors to have a source of insulin-producing cells for transplant," said Buse, who reviewed the findings.
The new stem cell treatment seems to work "pretty well," he added.
"The patients have to take immunosuppression but they had severe hypoglycemia beforehand so that is a reasonable trade-off for having to take insulin," Buse said.
More information
HealthDay has more on type 1 diabetes.
SOURCES: Trevor Reichman, MD, surgical director, Pancreas and Islet Transplant Program, University Health Network's Ajmera Transplant Center, Toronto, Ontario, Canada; John Buse, MD, PhD, director, University of North Carolina Diabetes Care Center, Chapel Hill, N.C.; presentation, European Association for the Study of Diabetes meeting, Hamburg, Germany, Oct. 3, 2023