Sick? You'll Need Multiple Tests to Rule Out COVID
By Cara Murez HealthDay Reporter | Copyright © 2022 HealthDay. All rights reserved.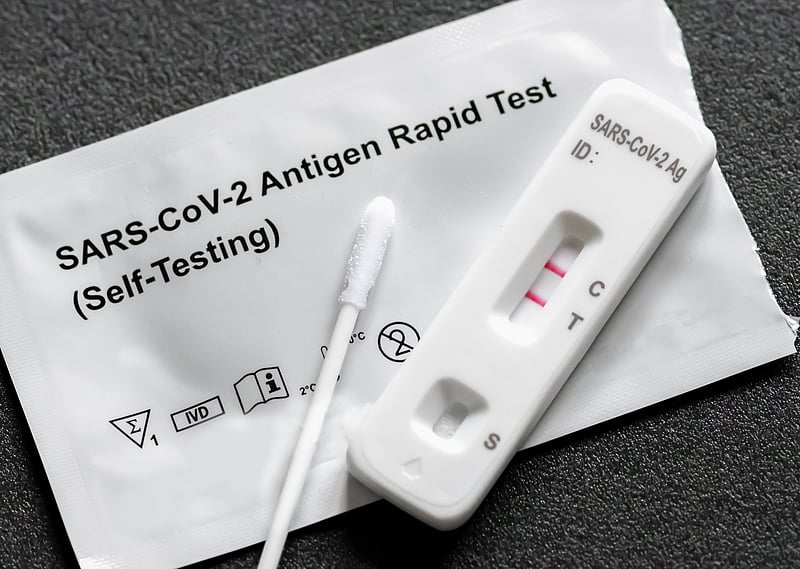 WEDNESDAY, July 5, 2023 (HealthDay News) -- For much of the COVID-19 pandemic, doctors have told patients who get a negative result after taking a rapid antigen test at home to test again 48 hours later.
A new study confirms that's the right advice.
Whether you have symptoms or not, repeat testing after 48 hours may be required to rule out COVID infection, researchers from the University of Massachusetts Medical School found.
In the meantime, if you think you may be infected or have been exposed to the virus, you should take precautions to not expose others to the virus until getting a second negative test result, researchers said.
That means wearing a mask and social distancing.
"What we see is that when people test once, there are a good amount of people where their infection may be missed," said Carly Herbert, a study co-author and an MD/PhD candidate at the university. "This is what we call a false negative. And this can really provide [misleading] information to somebody that they are healthy and can go about their daily life, when really if they test again two days later, they are positive."
For this study, the rapid antigen tests, or Ag-RDTs, were collected at home and analyzed in a central laboratory. Researchers ran PCR tests on the nasal samples as a comparison.
The study included more than 5,300 participants who were asymptomatic and negative for COVID on study day 1. In all, 154 tested positive, with 97 experiencing symptoms.
The team found that the rapid tests were best when testing three times at 48-hour intervals, if patients were asymptomatic, and twice when patients had symptoms.
Initially, the ability of the home test to detect COVID was higher among symptomatic people (60%) compared to those without symptoms, where fewer than 10% of infections were detected.
By the second test, 92% cases were correctly identified in people with symptoms and 39% of those without symptoms.
The third test 48 hours later was even more effective, with more than half of those without symptoms identified, researchers said.
Repeat testing wasn't needed when the initial test was positive because false-positive rates were low, the researchers said.
"It is really just those negative tests that somebody may take an extra couple days to develop enough viral load in their body for it to be detected by rapid antigen tests," Herbert said. "The difference between PCR and rapid antigen tests is there's this higher threshold of viral load that's necessary to be de detected."
COVID is still with us, and relying on one negative test result can have serious consequences.
"With false negatives, there is of course the possibility for people to go back to work and assume it's just allergies and so to go expose other people to their infection," Herbert said.
Also, the sooner you know you're sick, the sooner you can take an available treatment to limit symptoms and the length of illness, if you're eligible, Herbert said.
Long COVID is also a concern, as symptoms linger. Documenting that you were positive for COVID at some point is important for understanding your health status.
The findings fit with physician advice to patients about what they should do if they think they've been exposed to COVID, said Dr. William Schaffner, a professor of preventive medicine and infectious diseases at Vanderbilt University Medical Center in Nashville. Schaffner was not involved in this study.
Even with this advice, people may not behave now as they did earlier in the pandemic.
"My sense of what's happening is people are not testing as frequently and, even if they're positive, they are modifying their behaviors, but they're not putting themselves in quarantine completely," Schaffner said.
Test kits can still be found in pharmacies and over the counter, but they're not always as accessible or free as they were earlier in the pandemic, when you could sign up to have them mailed to your home.
"It will lead to further disparities for people with lower income, who will be even less likely to test because now they have out-of-pocket costs," Schaffner said.
Although it might seem to make sense to take a PCR test instead, it can take two or three days to get those results back, depending on how busy the lab is, so it's not always a faster approach than a repeat rapid test, Herbert said.
"That really depends on where you are and the season," Herbert said.
The current COVID strains are, fortunately, much milder, said Dr. Bruce Hirsch, chief resident at North Shore University Hospital in Manhasset, N.Y. Hirsch was not involved in this study.
This study was based on test results during the omicron phase of the pandemic, from October 2021 through January 2022.
Yet, "antigen testing is still good. Antigen testing is still picking up the new strains," Hirsch said. "Every strain is a little bit different," he noted, adding doctors aren't 100% sure how the testing will do as the virus evolves through variant after variant.
PCR tests pick up COVID earlier, but they can be so sensitive that a person can test positive for a prolonged period of time and it can be confusing what those results mean, Hirsch added.
In addition to testing once and then again 48 hours later, Schaffner offered some additional advice for avoiding COVID.
You should still get your booster shots -- the currently available bivalent booster and an updated booster if one becomes available in the fall, he said.
Travelers and those at higher risk of serious illness who will be in enclosed or crowded places should not be complacent. "Exert some caution and dust off your mask and put it back on," Schaffner said.
Study results were published July 3 in the Annals of Internal Medicine.
More information
The U.S. Centers for Disease Control and Prevention has current COVID-19 advice.
SOURCES: Carly Herbert, MD/PhD candidate, University of Massachusetts Chan Medical School, Worcester; William Schaffner, MD, professor, preventive medicine and infectious diseases, Vanderbilt University Medical Center in Nashville, Tenn.; Bruce Hirsch, MD, assistant professor, Donald and Barbara Zucker School of Medicine, Hofstra/Northwell Health and chief resident, North Shore University Hospital, Manhasset, N.Y.; Annals of Internal Medicine, July 3, 2023