Scientists Spot Genes Linked to Raynaud's Phenomenon
By Cara Murez HealthDay Reporter | Copyright © 2022 HealthDay. All rights reserved.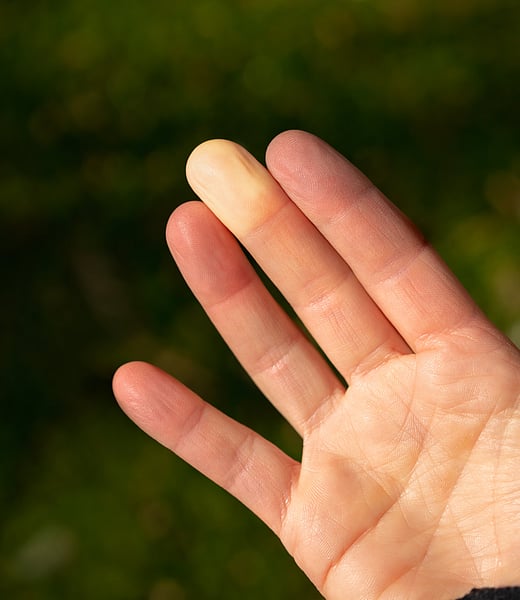 MONDAY, Oct. 16, 2023 (HealthDay News) -- Scientists have discovered two genes that may trigger Raynaud's phenomenon, a condition that can cause fingers and toes to go cold and numb because of the constriction of tiny blood vessels under the skin.
"We identify two distinct genes that point to two distinct mechanisms," lead researcher Maik Pietzner, chair in health data modeling at Queen Mary University of London's Precision Healthcare University Research Institute, told NBC News.
The condition is triggered by cold temperatures or stress, causing the skin to turn white or blue, then red, according to the Mayo Clinic.
People may not be able to move their hands well during an attack, Dr. Marie Gerhard-Herman, an associate professor at Harvard Medical School in Boston, told NBC News.
"It gets painful and numb," Gerhard-Herman added.
About 2% to 5% of the population is affected, more often women.
Primary Raynaud's is often diagnosed in teenage girls and women in their 20s. It is the most common form.
Although typically treated with lifestyle changes, certain medications can help.
"The main therapy currently is a class of drugs called calcium channel blockers," Dr. Laura Hummers, a rheumatologist and an associate professor at Johns Hopkins Medicine in Baltimore, told NBC News. "Those therapies are fairly helpful."
The drugs do lower blood pressure, which can cause dizziness, headache and constipation, according to the Cleveland Clinic.
"About half the people who have primary Raynaud's phenomenon have another first-degree relative who also has Raynaud's," said Hummers, who co-directs John Hopkins Scleroderma Center.
Secondary Raynaud's is rare. It can have serious symptoms, including ulcers and gangrene on the fingers. It occurs in people who have autoimmune conditions, including lupus and scleroderma, NBC News reported.
The genes found in the study, published Oct. 16 in the journal Nature Communications, are only involved in primary Raynaud's.
The study included UK Biobank data from more than 440,000 people. Researchers found more than 5,000 cases of Raynaud's. About 68% were primary Raynaud's cases.
The scientists found that one gene variant affects how blood vessels narrow. Those with the variant had a higher number of a particular receptor for hormones that are released under stress or cold. Another gene variant affects how blood vessels relax.
An existing antidepressant, mirtazapine (Remeron), acts on the receptor and may be able to be repurposed for Raynaud's treatment, Pietzner said.
"For patients, it's all about finding treatments," Pietzner added.
"The genetic studies that have been done in Raynaud's up until this point hadn't been as compelling as this one," Hummers said. "It's a huge step forward."
More information
The National Institutes of Health has more on Raynaud's phenomenon.
SOURCE: Nature Communications, Oct. 16, 2023; NBC News