Race, Income Big Factors in Deaths After U.S. Hurricanes
By Cara Murez HealthDay Reporter | Copyright © 2022 HealthDay. All rights reserved.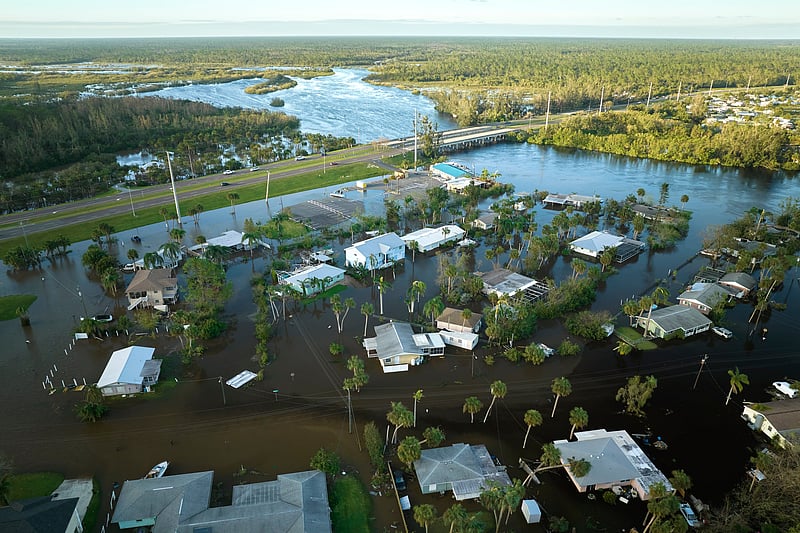 WEDNESDAY, Aug. 16, 2023 (HealthDay News) -- Death rates skyrocket during extreme weather events among the most vulnerable Americans, especially those from minority groups.
A study looking at hurricanes over more than three decades showed that their impacts varied and were driven by differences in social, economic and demographic factors such as race.
"Really, we wanted to understand what the comparative impact was over time and space in various areas of the United States," said first author Robbie Parks, assistant professor of environmental health services at Columbia University Mailman School of Public Health in New York City.
Parks said there was no consistent way to count these hurricane deaths throughout the United States. So researchers designed a model enabling them to estimate deaths by storm, by county and by state.
For the study, the researchers looked at excess-death data for 1988 through 2019, and found that 94% of hurricane-related deaths happened in socially vulnerable counties.
Excess deaths represent the difference between the number of deaths that occur in the storm's immediate aftermath versus the usual number of deaths.
Orleans Parish, La., had the single largest number of excess deaths, at 719, after Hurricane Katrina in 2005. That was followed by Harris County, Texas, at 309, after Hurricane Rita in 2005.
Other counties with the high numbers of excess deaths in the wake of storms included Broward County, Fla., after Hurricane Matthew in 2016, with 185, and Nassau County, N.Y., with 178, after Hurricane Sandy in 2012.
One reason for the increase in excess deaths is that climate change may be fueling more powerful hurricanes, researchers said. People are living in more vulnerable places, as well. Parks noted a rise in people moving into flood plains, for example.
"There's also other reasons to do with the way that we invest in infrastructure -- social infrastructure and physical infrastructure, too," Parks said.
In some places, people may live in basements because housing costs are high, and basements may get flooded.
"It is a double whammy, of people becoming bombarded with the cyclones every year in the United States, but also worldwide, and also having the fewest means to cope with it," Parks said.
Other reasons storms take a greater toll on vulnerable populations include inequitable access to financial resources, education, job opportunities and timely warnings, the study pointed out. Parks attributed these issues to long-term institutional neglect.
Bigger storms, more injury and illness
A variety of storm-related factors are causing the excess deaths.
One is injuries. Another is the spread of infectious and parasitic disease owing to unsanitary conditions or people living in close quarters.
Storm-related stress also causes cardiovascular issues such as heart attacks and strokes. The storms can trigger respiratory issues, as well.
People with neuropsychiatric conditions, such as Alzheimer's disease, are particularly vulnerable.
"In the very short term, we are talking about cardiovascular, infectious disease, injuries, self-harm, violence, respiratory diseases from dust, power cuts cutting breathing apparatus and people living with dementia and associated conditions" being vulnerable, Parks said.
The deadliest storm was Hurricane Katrina, the study noted. All told, it caused 1,491 excess deaths, among 2,163 overall in that year.
Kristie Ebi, a professor at the University of Washington Center for Global Health and the Environment in Seattle, said the study confirms smaller-scale research showing that people who are socially vulnerable are at risk during extreme events and disasters.
"There's a range of reasons" for this vulnerability, said Ebi, who was not involved with the study. "First of all, we've got in the U.S quite a large number of historically marginalized communities, redline communities."
Redlining is a term for housing discrimination dating to the 1930s, and redlined areas still tend to be less-desirable places to live. Reasons include their potential risks in terms of natural disasters, such as having fewer trees and being vulnerable to hotter temperatures in cities.
Parks said large-scale solutions would include federal planning to replicate places that are most resilient and to improve communication at the local level. That should include multilingual messaging and more effective ways to get information out to people, he noted.
Solutions could also include using different housing materials, moving power lines underground and improving access to health care and transportation.
"Transport is one of the major reasons why people don't evacuate, so having adequate public transport -- buses or trains -- with due notice so people can get out of really dangerous areas" is needed, Parks said.
Ebi, meanwhile, suggested officials weigh the best ways to message vulnerable groups in times of emergency -- and to plan this in advance. She said officials should identify trusted voices for communities and build on that social capital that already exists.
Other considerations include planning for disaster shelters, including how people will be transported there, where transports will pick them up, how long people will stay in shelters and what should they have with them.
"It's really important that we better understand the consequences of these extreme weather and climate events and take the actions to protect people," Ebi said.
Findings were published Aug. 16 in Science Advances. The U.S. National Institutes of Health and the Climate Change Solutions Fund provided support for the study.
More information
NASA has more on global climate change.
SOURCES: Robbie Parks, PhD, assistant professor, environmental health services, Columbia University Mailman School of Public Health, New York City; Kristie Ebi, PhD, MPH, professor, global health, and environmental and occupational health sciences, University of Washington Center for Global Health and the Environment, Seattle; Science Advances, Aug. 16, 2023