People Exhale Less COVID Virus as Their Infection Wanes
By Cara Murez HealthDay Reporter | Copyright © 2022 HealthDay. All rights reserved.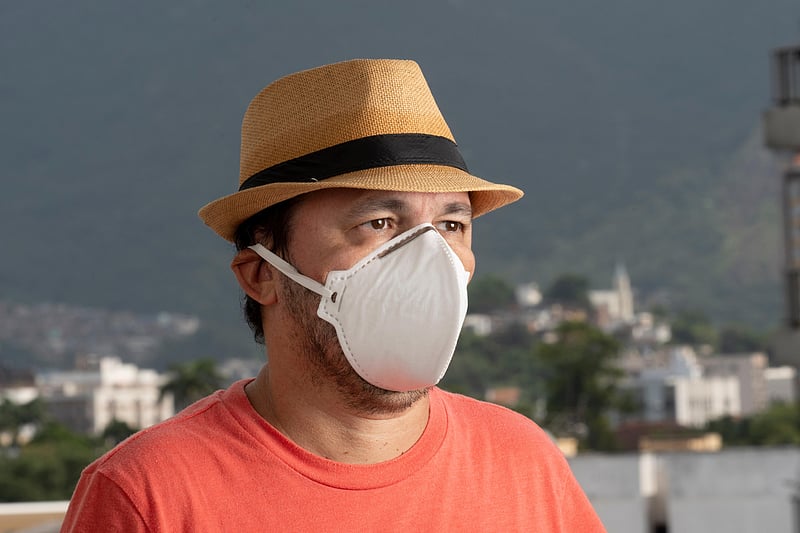 TUESDAY, Sept. 12, 2023 (HealthDay News) -- When you have COVID-19, when are you most infectious? Researchers are getting closer to an answer, with a new study finding that folks exhale the highest amounts of virus during the first eight days of their illness.
Scientists found that patients exhale quite a bit of virus during the first several days — as many as 1,000 copies of airborne virus per minute.
Those levels drop steeply by day eight, however, when a person exhales only about two copies per minute.
"This information speaks directly to when someone with COVID-19 should isolate; when they are more likely to infect other people by breathing out virus into the air around them; and when they become much less likely to spread the infection," lead study author Gregory Lane, a senior research project manager at Northwestern University Feinberg School of Medicine, in Chicago, said in a university news release.
The study's aim was to figure out "how much virus a patient is exhaling into the environment over the course of their infection and for how long," study co-author Christina Zelano added in the news release. She's an assistant professor of neurology at Northwestern.
The study authors invented and utilized a portable, non-invasive device to collect breath samples.
"The vast majority of research on viral loads over the course of a COVID-19 infection has been based on nasal or oral swabs, which measure virus in the nose or throat," Lane explained. "However, SARS-CoV-2 is spread through breath, and virus on the breath may not match virus in the nose. The dynamics of viral shedding on breath over the course of infection are poorly understood, despite the fact that this is how the virus spreads."
The study included 44 participants recruited from Northwestern Medicine. Each of them were trained to use the device at home to self-collect breath samples, which they mailed back to the lab for analysis.
Researchers tested for the presence of the virus over 10 minutes of natural, relaxed breathing. This established a conservative baseline of exhaled virus amount. It's likely that using the breath in other ways, such as for talking, singing or shouting would increase amounts of exhaled virus, the team noted.
They found that mild and moderately symptomatic patients with COVID-19 still exhale large amounts of virus, though severely symptomatic cases exhale higher levels on average.
Vaccinated and unvaccinated patients exhaled similar levels of virus over the course of infection, and which COVID variant the patient was infected with didn't seem to matter in terms of how much they exhaled, the team found.
The device enabled investigators to detect viral RNA in 100% of specimens collected from COVID-positive patients who had been having symptoms for 10 days or less.
The findings could be used to calculate how much time it takes for a person to exhale enough virus to infect others.
"For example, if we assume the infectious dose for COVID is 300 copies, then a person who is exhaling 1,000 viral copies per minute would exhale an infectious dose in 20 seconds (highly risky in an elevator), whereas a person who is exhaling two viral copies per minute would exhale an infectious dose in about two hours (probably safe in an elevator)," Lane said.
The findings will be published in eLife and have been posted as a pre-print.
More information
The U.S. Centers for Disease Control and Prevention has more on COVID-19.
SOURCE: Northwestern University, news release, Sept. 10, 2023