Older Black Americans Hit Hardest by Disability
By Alan Mozes HealthDay Reporter | Copyright © 2022 HealthDay. All rights reserved.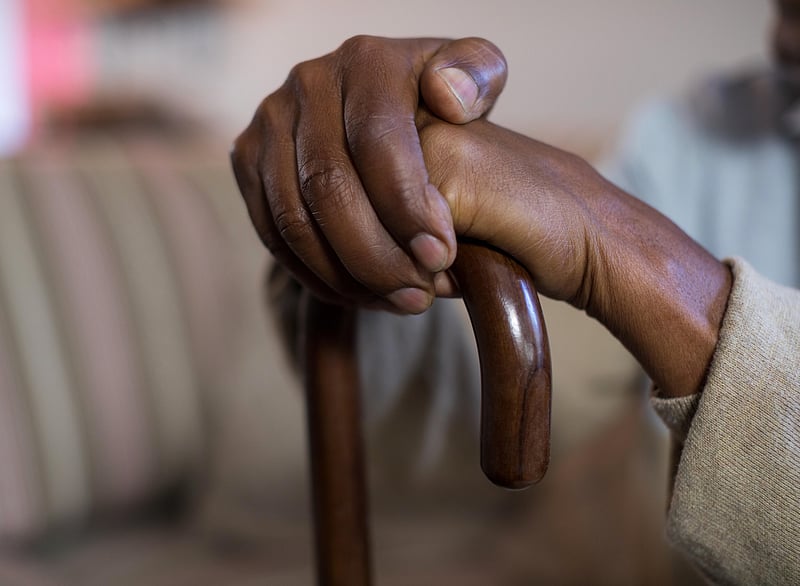 WEDNESDAY, Oct. 11, 2023 (HealthDay News) -- Most older adults want to spend their final days in the peace of their own home, but new research finds that Black Americans are far more likely to fall short of that goal.
Why? Because Black adults are much more likely than white adults to develop the kind of disability that will preclude them from being able to age in place.
The finding stems from a new survey that gathered information between January and February of 2022 from nearly 2,300 Americans aged 50 to 80.
"We found that almost one-third of our survey participants reported that they had a disability," said study lead author Sheria Robinson-Lane. She is an assistant professor in the department of systems, populations and leadership with the University of Michigan's School of Nursing, in Ann Arbor.
And more than 4 in 10 of those disabled respondents were Black, the investigators found.
That fact poses a big obstacle to the goal of aging in place, said Robinson-Lane, because an "increased risk for disability means a higher need for resources that are already limited."
Underscoring that point, she said, was the additional finding that one-quarter of all those surveyed reported annual household incomes of under $30,000 — but more than half of Black adults fell into that low-income category.
As reported online Oct. 4 in Geriatric Nursing, the U.S. National Poll on Healthy Aging is a bi-annual nationally representative survey of middle-aged adults and seniors.
The survey was conducted online or by phone in 2022, and all participants were randomly selected.
The poll collected information on age, gender, sexual orientation, income, disability status in the entire household, race and ethnicity.
Key indicators of an individual's overall quality of life were also collected, including health status, social support, financial status and the degree to which the home environment was amenable to one's health condition.
The research team found that more than three-quarters of those surveyed said they had given "at least a little consideration" to what they would need to be able to age in place.
But complicating that consideration was the fact that almost 31% of those polled also reported living with a disability. And of the men and women in that group, nearly 41% were Black.
The investigators further found that those who had a disability tended to be less confident in their ability to get the help they would need to age in place.
The same confidence dip was seen among the one-quarter of respondents who said they lived alone, 44% of whom were Black.
Complicating the picture was the finding that Black respondents (37%) were also much more likely to say they were in either fair or poor health compared with other respondents (21%).
As to why older Black adults appear to face a notably higher disability risk in the first place, Robinson-Lane cited "a long history of racism in the U.S." Over time, she suggested, that history gives rise to a phenomenon known as "weathering," in which the unrelenting social, economic and environmental stresses that racism fosters takes a big health toll among those on the receiving end.
And that dynamic, she added, can undermine the "one thing that most adults have in common around health," namely a "desire to remain in the community as they age, or age in place, and avoid, or at least significantly delay, a nursing home stay."
As to what can be done to address this issue, Robinson-Lane first cited the need to meet the disabled elderly where they live, by prioritizing the funding that ensures both public and private spaces are accessible.
Todd Reid is an epidemiologist and technologist with the Harvard T.H. Chan School of Public Health and the MIT Media Lab, both in Boston.
Though not part of the survey team, Reid expressed little surprise with the findings, concurring with Robinson-Lane that the disability gap in question is a "downstream effect of structural racism that considerably limits access to health care, health education and health-seeking behaviors."
That increased disability, he added, results in higher health care costs. And when greater disability is paired with greater cost, the result is a reduced likelihood that a Black senior can age in place.
Reid said that beyond eradicating racism, "there are multiple public health and societal measures that can help address this important issue."
Those include making it a priority to reach out to those most in need of housing assistance; ensuring better access to preventive health care; providing better access to healthy living advice; and using technology to gather as much information as possible going forward, he said.
More information
There's more on race and aging at the NAACP.
SOURCES: Sheria Robinson-Lane, PhD, RN, assistant professor, department of systems, populations, and leadership, school of nursing, University of Michigan, Ann Arbor; Todd Reid ScD, MBA, MPH, MSc, epidemiologist and technologist, Harvard T.H. Chan School of Public Health, and the MIT Media Lab, Boston; Geriatric Nursing, Oct. 4, 2023, online