Non-White Kids With Recurrent Ear Infections Less Likely to Get Specialist Care
By Cara Murez HealthDay Reporter | Copyright © 2022 HealthDay. All rights reserved.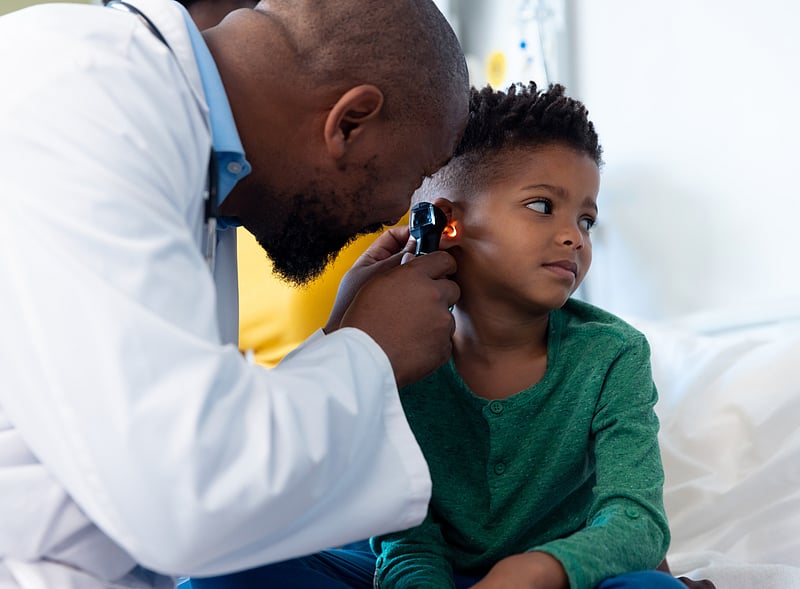 TUESDAY, Oct. 17, 2023 (HealthDay News) -- Which U.S. kids see specialists for ear infections and have tubes placed to drain fluid and improve air flow differs significantly by race.
Asian, Hispanic and Black children are much less likely than white kids to see ear, nose and throat (ENT) doctors, new research shows.
"For the first time, our study found there are significant differences in the rate of ENT office visits for children with ear infections, based on race and ethnicity," said lead author Dr. Yu Shi, an assistant professor of anesthesiology at the Mayo Clinic in Rochester, Minn.
The research was presented Monday at the annual meeting of the American Society of Anesthesiologists, in San Francisco.
Shi said there are probably several reasons underlying the differences.
"For example, they might have been given a referral to an ENT, but their parents decided not to go because they didn't follow their doctor's advice due to lack of trust, language barriers or lack of information," he said in a meeting news release. "It's also possible they couldn't attend the appointment due to work or transportation issues. All of these factors can contribute to disparities in health care."
Researchers analyzed health claims of more than 187,000 children from a large U.S. health plan who had three or more ear infections within six months or fluid in the ear for more than three months.
More than 148,000 were white children; 18,000 were Hispanic children; 12,000 were Black children, and 8,000 were Asian children. All met criteria for referral to an ENT.
In total, only 45.3% of these children were checked out by an ENT.
Researchers found that white children had the highest rates of ENT office visits at 46.7%, followed by Black children at 45.4%. About 40.4% of Hispanic children had these visits, as did 33.9% of Asian children in the study.
Compared to white children, the researchers determined that Asian children were 30% less likely, Hispanic children were 16% less likely and Black children were 7% less likely to have these appointments, which could lead to tube placement.
Ear tube placement is the most common outpatient procedure in children in the United States. The tubes reduce ear infections by allowing air to flow in and out of the middle ear. They also drain fluid that builds up.
Left untreated, ear infections can lead to hearing loss and speech delays.
Researchers also looked at the rates of tube placement. Among kids who saw an ENT doctor, Asian children were 26% less likely to have tubes placed, Hispanic children were 17% less likely and Black children were 7% less likely, compared to white children.
"Racial and ethnic disparities clearly play a role in ear tube placement," Shi said. "Our study suggests that Asian, Hispanic and Black patients may need more support in decision-making for surgery. More research is needed to help us better understand what is contributing to this lower access."
Findings presented at medical meetings are considered preliminary until published in a peer-reviewed journal.
More information
The U.S. National Institutes of Health has more on ear infections in children.
SOURCE: American Society of Anesthesiologists, news release, Oct. 16, 2023