New Technology Could Predict Your Teen Driver's Risk for a Crash
By Denise Mann HealthDay Reporter | Copyright © 2022 HealthDay. All rights reserved.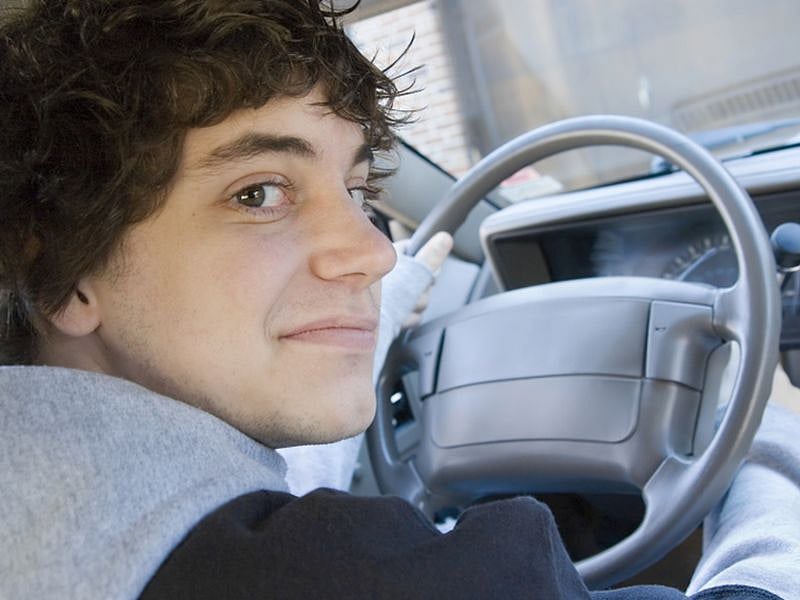 MONDAY, Oct. 16, 2023 (HealthDay News) -- When your teen gets a driver's license, you'll likely have mixed emotions. While you're off the hook for carpools, it's scary to think about your baby behind the wheel.
Now, a new video game technology that exposes drivers to the most common serious crash scenarios and sees how they react may help predict what type of driver your teen will be. It can also highlight any potential problems, a new study suggests.
"Not only is the virtual driving assessment a great resource for young drivers to get feedback on their driving going beyond just pass or fail results, but it can also be a helpful resource for parents to determine if their child is ready to drive safely [and] know what types of driving skills they should focus on when taking their teens out to practice," said study author Elizabeth Walshe. She's a research scientist and leader of the Neuroscience of Driving Program at Children's Hospital of Philadelphia's Center for Injury Research and Prevention.
The new video technology is called Ready Assess by Diagnostic Driving, Inc.
The virtual driving assessment is a fully immersive 15-minute, self-guided simulated drive that measures a person's ability to drive safely and avoid crashes. Drivers use a steering wheel, pedals and headphones while following the course on a computer screen. It measures more than 100 skills, including vehicle control, lane position, proximity to other vehicles, ability to negotiate curves and intersections, as well as responses to unexpected hazards.
At the end of the game, drivers receive a personalized report that identifies specific skill deficits and provides tips on how to improve driving skills.
If it's as reliable as the study suggests, this type of technology might be helpful for young drivers. That's because the risk of crashes is highest among teens than any other age group, according to the U.S. Centers for Disease Control and Prevention.
For the study, published online Oct. 16 in the journal Pediatrics, almost 17,000 Ohio drivers under 25 took the virtual driving assessment during the licensing process, and some clear patterns emerged.
Drivers who had "major issues with dangerous behavior" had a crash risk that was 11% higher than average in their first year with a license.
In Ohio, teen drivers who are 16 and 17 must complete driver education and training before getting their license, but 18-year-olds are exempt from these requirements.
Those who got their license at age 18 were 16% more likely to crash based on their performance on the video game, the study showed. Drivers who performed well on the video game had a crash risk that was about 10% lower than the average risk, the study showed.
"Our study's findings take us a step closer to identifying drivers most at risk of crashing early in licensure and which skills need to be developed to prevent these crashes from occurring," Walshe said.
The study didn't look at how certain conditions such as attention deficit hyperactivity disorder (ADHD) affect driving skills. It's well known that teens with ADHD have a higher risk of speeding, not wearing seat belts, and using alcohol or drugs while driving.
"We have started using this tool in our primary care clinics as a part of regular adolescent care, so that any teens who are starting or already driving, can get feedback on their skills," Walshe said.
Teen driving is risky for a few key reasons including lack of experience and overestimation of driving abilities. In addition, teens are easily distracted by devices and their peers, said Dr. Mark Zonfrillo, professor of emergency medicine and pediatrics at the Alpert Medical School of Brown University.
"To keep their teen drivers safe, parents should discuss driving with their teens early and often, familiarize themselves with their state's graduated driver licensing [GDL] laws, enforce the GDL laws and best practices, and be a strong role model by practicing safe driving themselves," said Zonfrillo, who has no ties to the new research. GDL systems initially restrict the driving privileges of new drivers.
It's nerve-wracking when teens first learn to drive, agreed Dr. Gabrina Dixon, a pediatric hospitalist at Children's National Hospital in Washington, D.C.
Practice makes closer to perfect. "This new technology may help let parents know if their teen needs more practice," said Dixon, who also has no ties to the study.
It's also hard for parents to teach their kids to drive. Dixon suggested that another trusted family friend or relative take on that role. "It's important to have conversations about drinking and driving, substance abuse and texting while driving," she said. "With driving comes responsibility."
Wondering how your teen will fare behind the wheel? Think about how he or she behaves in the non-driving world. "Do they follow instructions and abide when someone tells them to do something? These can be important clues," Dixon said.
More information
There's more on teen driver safety at the U.S. National Highway Traffic Safety Administration.
SOURCES: Elizabeth Walshe, PhD, research scientist, program lead, Neuroscience of Driving Program, Center for Injury Research and Prevention, Children's Hospital of Philadelphia; Mark Zonfrillo, MD, pediatric emergency medicine physician, and professor, emergency medicine and pediatrics, Hasbro Children's Hospital, Alpert Medical School of Brown University, Providence, R.I.; Gabrina Dixon, MD, pediatric hospitalist, Children's National Hospital, Washington, D.C.; Pediatrics, November 2023