Low-Dose Aspirin Could Raise Anemia Risks in Older Adults
By Dennis Thompson HealthDay Reporter | Copyright © 2022 HealthDay. All rights reserved.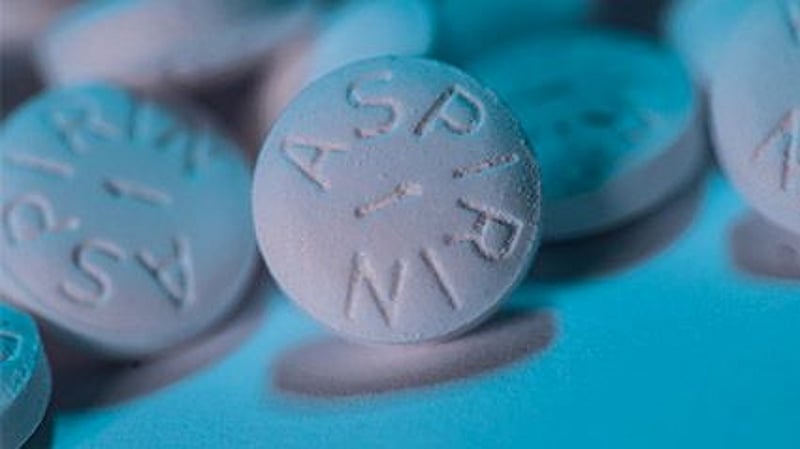 TUESDAY, June 20, 2023 (HealthDay News) -- Taking daily low-dose aspirin increases the risk of anemia in the elderly, a new clinical trial suggests.
Not only does it raise anemia risk by more than 20% in people 70 or older, it is also associated with a decline in blood iron levels, researchers report.
"This finding about anemia and aspirin is noteworthy because, in many older people, anemia has other consequences such as fatigue and general decline in function," said lead researcher Dr. Zoe McQuilten, an associate professor of hematology with Monash University in Australia.
About half of seniors in the United States take aspirin to prevent heart attacks and strokes, the researchers noted.
However, major groups that once strongly recommended low-dose aspirin -- such as the American Heart Association and the U.S. Preventive Services Task Force -- have tightened their guidelines after newer studies found the therapy increases the risk of dangerous bleeding.
"We knew from large clinical trials that daily low-dose aspirin increased the risk of clinically significant bleeding [bleeding that requires a blood transfusion or other treatment for the bleeding]," McQuilten said.
But it wasn't clear whether aspirin also contributed to full-fledged anemia, or a lack of healthy red blood cells to carry oxygen to the body's organs, the researchers added.
Symptoms of anemia include fatigue, shortness of breath, dizziness, irregular heartbeat, headache, chest pain and pale or yellow skin, according to the Cleveland Clinic.
For this study, researchers re-analyzed a previous clinical trial in which more than 19,000 people 70 or older were randomly assigned to take either a placebo or 100 milligrams of aspirin daily.
Those assigned to take aspirin had a nearly 24% risk of developing anemia within five years compared to the placebo group, results showed.
Seniors taking aspirin also had a small but greater decrease in their levels of hemoglobin, the substance in red blood cells that enables them to transport oxygen, researchers found. Further, the aspirin group also had lower levels of iron in their blood. The body uses iron to make hemoglobin.
The findings were published June 20 in the Annals of Internal Medicine.
It's natural that this would occur due to aspirin's effect on platelets, said Dr. Margaret Ragni, medical director of the Hemophilia Center of Western Pennsylvania in Pittsburgh.
Aspirin interferes with platelets' ability to form clots, which is why it can be effective in preventing heart attacks and strokes, said Ragni, a spokeswoman for the American Society of Hematology. She was not involved in the new study.
"That's not shocking. This is not life-shattering news," Ragni said of the new findings. "However, it really should help people make better decisions as they go forward."
Ragni added that it's normal for all seniors to develop anemia, but that aspirin appears to worsen that aspect of aging.
"It should be noted that people who are over 70 are going to have more anemia than people who are much younger," Ragni said. "In this clinical trial, both groups had some anemia. It was just more profound in the group that took aspirin."
Researchers suspect that aspirin contributes to anemia by inhibiting countless tiny clots that typically prevent blood from leaking out of the gastrointestinal tract and other locations in the body, McQuilten and Ragni said.
"In the gastrointestinal tract, which is the most common place where bleeding might occur, you are at risk for blood loss," Ragni said. "It just seeps in between blood vessels and outside of thin blood vessel walls."
As a result of this hidden bleeding, people's hemoglobin counts and blood iron levels can decline to the point where they develop anemia, the doctors said.
"People taking low-dose aspirin should watch out for symptoms of anemia, such as fatigue and shortness of breath, and also any signs of blood loss, and speak to their doctor if they are concerned," McQuilten said.
The American Heart Association continues to recommend low-dose aspirin for people who have had a heart attack or stroke, have a stent or have a history of atrial fibrillation, as long as they've discussed it first with their doctor.
However, the AHA recommends against aspirin therapy to prevent a first heart attack or stroke. "If you're over 70, taking aspirin to prevent a first heart attack or stroke could do more harm than good," the AHA's website says.
The U.S. Preventive Services Task Force recommends against starting low-dose aspirin use in people 60 or older to prevent heart disease.
Seniors who are taking low-dose aspirin under a doctor's supervision should have their hemoglobin and blood iron counts regularly monitored, and aspirin therapy should be stopped if their levels dip too low, Ragni and McQuilten said.
"People should not stop taking aspirin prescribed by their doctors based on our findings," McQuilten said. "However, people should only take aspirin for a proven indication [for example, if they have a history of heart disease]. If they are unsure whether they should be taking aspirin, they should consult their doctor."
More information
The American Heart Association has more about aspirin and heart disease. The Cleveland Clinic has more about anemia.
SOURCES: Zoe McQuilten, MBBS, PhD, associate professor, hematology, Monash University, Australia; Margaret Ragni, MD, MPH, medical director, Hemophilia Center of Western Pennsylvania, Pittsburgh, and professor, medicine and clinical and translational research, University of Pittsburgh; Annals of Internal Medicine, June 20, 2023