Kim Kardashian Just Got a Whole-Body MRI Scan. Should You?
By Dennis Thompson HealthDay Reporter | Copyright © 2022 HealthDay. All rights reserved.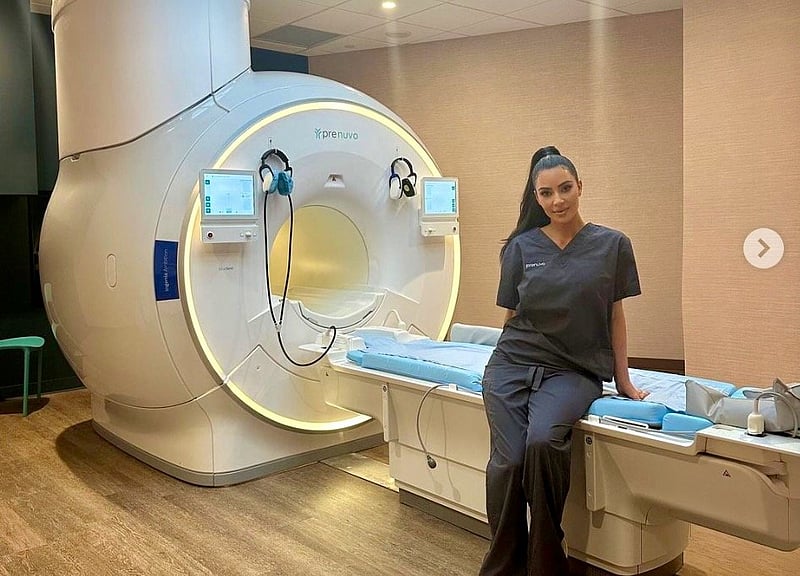 MONDAY, Sept. 18, 2023 (HealthDay News) -- Whole-body MRI scans are the latest health fad to be promoted by celebrities, with Kim Kardashian taking to Instagram last month to tout the practice.
But doctors are warning that such whole-body scans, while tempting, are pricey and not all that accurate.
In fact, the average person is more likely to be unnecessarily harmed by having a whole-body MRI than helped by catching a disease early, according to a recent report in the American Journal of Roentgenology.
In her post, Kardashian said the whole-body MRI scan "has the ability to detect cancer and diseases such as aneurysms in its earliest stages, before symptoms arise."
But about 15% to 30% of all imaging tests, and 20% to 40% of CT scans, detect abnormalities in a person's body that aren't dangerous but could kick off a series of expensive and potentially harmful follow-up tests and biopsies, the new paper finds.
There's also a risk that the whole-body scan, by being not specific enough, could miss an actual health problem — giving a person a false sense of security about their wellness.
"Patients understandably want to know what's wrong with them," said report author Dr. Matthew Davenport, a radiologist at the University of Michigan. "It makes total sense and I understand it. But unfortunately, they're going to probably suffer more harm than benefit by undergoing a whole-body MRI," he explained.
"It's promoting something that's going to contribute to harm, and that makes me a little bit sad," Davenport added.
And finally, there's the expense.
The type of scan touted by Kardashian costs $2,500, and it's not likely that insurance will pay even part of it, Davenport said.
That's because whole-body MRIs haven't been proven to be an effective tool for screening nearly any common diseases or conditions, he said.
"This whole-body MRI screening is not recommended by anybody from a medical society standpoint. No cancer society, no radiology society, no government agency, no payer. Nobody recommends doing this," Davenport said.
"Even those who you might imagine would have a vested interest in it, like radiology societies or cancer societies, are not recommending it," Davenport added. "They're still saying it's not a good idea. That should be a pretty loud statement."
Danger of 'incidental findings'
Dr. Jeffrey Linder, chief of general internal medicine at Northwestern University Feinberg School of Medicine in Chicago, agreed.
"I shudder to think that I might be perceived as defending insurance companies, but there's no medical indication and no science behind getting a full-body MRI," Linder said.
Dr. Kimberly Amrami, a radiologist with the Mayo Clinic, said her clinic does offer whole-body imaging for very specific reasons.
"We certainly don't offer it as sort of a general purpose screening for healthy people, and I think it's problematic the way that this is being presented to the general public," Amrami said.
"The areas where we would use it in our practice are people with genetic anomalies that predispose them to certain kinds of cancers," Amrami said. "We occasionally use it in patients who have multiple myeloma to identify bone lesions."
The biggest concern is that every whole-body MRI will be full of non-threatening abnormalities, or what doctors call "incidental findings."
"Commonly you'll find tons and tons of things inside you that are technically abnormal, but from a practical standpoint would have never hurt you if you hadn't have found it in the first place," Davenport said.
"That creates significant uncertainty and anxiety that then drives a bunch of care pathways — diagnostic workups, additional testing, additional imaging, additional biopsies, additional operations," he continued.
These additional tests and biopsies are not without risk, Davenport said. Complications can include bleeding and wound infections.
Doctors and medical societies approach health screening very cautiously because of the risk of harming someone who wasn't sick, Linder said.
"To pick up from a recent film, the phrase I've landed on is, there's a reason we don't test everybody for everything all the time," Linder said. "And it actually has nothing to do with money or access or a two-tiered medical system. Just from a decision-making perspective and for the safety of individual patients, testing everybody for everything all the time, including doing full-body MRIs in people with no symptoms, has much more potential to cause mischief and harm than it does to help people live longer."
Excess tests, excess expenses
Real-world examples abound.
Davenport pointed to an effort in South Korea intended to improve detection of thyroid cancer, through a broad-based ultrasound screening program.
"What happened is that the incidence of thyroid cancer, meaning how common it was, it went up by sixfold," Davenport said. "And the reason why was because they were detecting a lot more of it — seemingly a good thing, we're detecting that cancer early. But the problem is that the mortality from thyroid cancer did not change."
The program didn't wind up saving more lives because the thyroid nodules detected weren't going to be life-threatening, Davenport noted.
"That particular kind of cancer was indolent, low-risk, unlikely to progress, unlikely to grow. So, it technically was a cancer, but it wasn't necessarily a harmful cancer," Davenport said. "And in an effort to identify that cancer, they ended up taking out a lot of people's thyroid glands, causing a lot of complications from surgery like injuries to nerves and the need for lifelong thyroid supplementation."
That's the same reason mammograms aren't recommended for women in their 20s, Davenport added.
"It's the same logic. If you apply a screening test to a very low-risk patient population, the results of the screening test end up being dominated by low-risk findings and false positive results that cause harm, not benefits," Davenport said.
Beyond that, there's a risk of financial toxicity. A person might find themselves facing more and more expensive tests and procedures to assess tiny imperfections in their body that pose no threat to their health.
Insurance may or may not pay for some of those follow-ups, but even if it does, most patients will need to fork out co-payments as part of cost-sharing.
"Unfortunately, the odds you're going to actually help yourself are very small, and the odds that you hurt yourself outweigh the benefits of the scan because you have no particular risk and you're healthy and or asymptomatic," Davenport said, adding that there's also a lot of psychological distress that can come from the results of a needless whole-body scan.
"Patients go into one of these scans kind of optimistic that they're going to be able rule out disease and they're going to feel good, because they're otherwise healthy, and they get the scan and someone tells them they have these little things that they have to worry about," Davenport said.
"Now someone who is otherwise a healthy person starts to identify as a patient," Davenport said. "That creates real psychological impact, chronic anxiety that lasts not for days, but sometimes months and years, as someone is periodically monitoring something and assessing it. It changes someone's perspective about life."
Ignoring real threats
Amrami said she has the opposite concern — that a full-body MRI will miss a potentially dangerous health problem because it's not specific enough.
"Depending on the body parts that we're imaging with MRI, we use very different techniques," Amrami explained. "The way you image the brain versus the liver versus the prostate versus bones are very different. And this whole-body MRI really provides sort of this one-size-fits-all approach."
"When you're using whole-body MRI, there are resolution limits, so you're not going to find very small lesions. It's not very good for imaging the lung. It's not very good for imaging the breast. The kinds of ways we look for prostate cancer are completely different from the approach of whole-body MRI," Amrami added.
"I wouldn't want somebody to get a whole-body MRI and then say, 'Oh, I'm done, everything's fine,' and then ignore something that maybe needs more than they can actually get from the whole-body MRI exam," she said.
Amrami said she's particularly concerned by new MRI clinics that have popped up in the wake of the fad, since they might not have the staff and the expertise to properly read a full-body scan.
"These whole-body MRIs are not easy to interpret. They're very, very time-consuming. It's more complicated than it appears on the surface," Amrami said. "The idea that someone would go to a center and have this whole-body MRI and then leave with a report without any input from a physician, without any kind of sense of what they're really getting into, I think that's pretty problematic."
Linder said people should at least wait until medical science has proven there's a reason for such a scan before undergoing one.
"Until there are studies showing that, yes, doing this will prevent that from happening here and help you live longer and better, current evidence would show that it's just much more likely to waste your time, waste your money, waste your anxiety and then, frankly, lead to you getting procedures that could really hurt you," Linder said.
More information
Dana-Farber Cancer Institute has more about full body MRI scans.
SOURCES: Matthew Davenport, MD, radiologist, University of Michigan, Ann Arbor; Kimberly Amrami, MD, radiologist, Mayo Clinic, Rochester, Minn.; Jeffrey Linder, chief, general internal medicine, Northwestern University Feinberg School of Medicine, Chicago; American Journal of Roentgenology, July 2023