In a First, Scientists Grow Human Kidneys Inside Pigs
By Dennis Thompson HealthDay Reporter | Copyright © 2022 HealthDay. All rights reserved.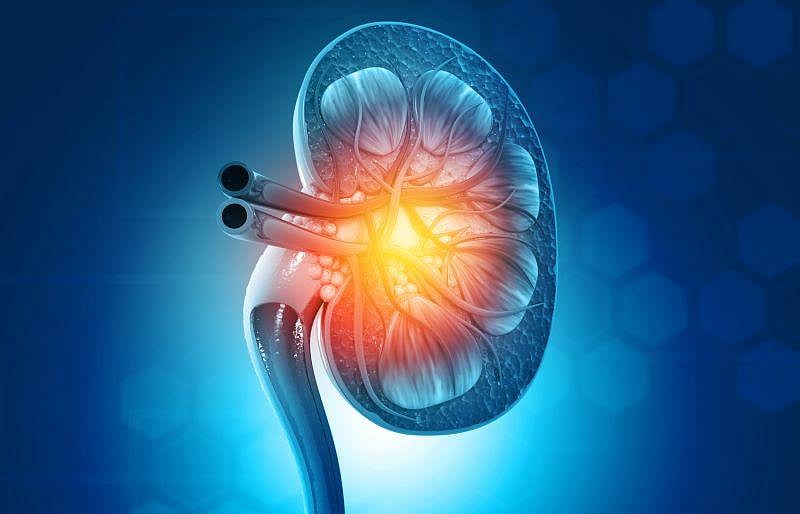 THURSDAY, Sept. 7, 2023 (HealthDay News) -- For the first time ever, a solid humanized organ has been grown from scratch in an animal — a first step in a process that could potentially solve organ shortages and save countless lives.
Chinese researchers grew partially human early-stage kidneys inside embryonic pigs, using a variety of genetic engineering techniques, a new report reveals.
"This study demonstrates proof-of-principle of the possibility of generating a humanized organ in pigs, opening exciting possibilities ahead of us," said senior researcher Liangxue Lai. He is deputy director of the Southern China Institute of Stem Cell Biology and Regenerative Medicine at the Guangzhou Institutes of Biomedicine and Health.
Researchers generated a series of five humanoid kidneys in pigs that had reached the mesonephros stage, the second stage of kidney development, after 25 to 28 days of development.
About 50% to 70% of the cells in these early-stage kidneys were human, Lai said.
"If the gestation time would be extended, it is possible that the proportion of human cells would increase, but other technical barriers may exist, too," Lai said. "We are working on that."
Massimo Mangiola, director of the Immunogenetics Laboratory for the NYU Langone Transplant Institute in New York City, referred to these as "primordial organs."
"They clearly showed that they can have human cells grow into primordial organs," said Mangiola, who didn't participate in the research. "That has not been done before. It's a little bit early to say whether or not this is going to develop into a full-blown human kidney, but this was the necessary initial step toward that goal."
Prior research has used similar methods to generate human tissues like blood or muscle in pigs, but this is the first to actually grow a part-human organ.
The researchers focused on kidneys because they are one of the first organs to develop, and they're also the most commonly transplanted organ in humans, according to background notes.
In this effort, the researchers first created genetically modified pig embryos missing two genes that are key to kidney development. This created an empty space — a kidney-shaped "niche" — within the embryos that human stem cells could fill with less competition from pig cells.
One of the challenges of integrating human stem cells into pig embryos has been that pig cells outcompete human cells during development, the study authors noted.
Next, the researchers engineered human stem cells to make them more likely to integrate into the pig embryos and less likely to self-destruct. These cells were then cultured into "naïve" cells that resemble early human embryonic cells.
Pig embryos containing human stem cells then were lab-grown, using unique nutrients and hormones to promote the growth of both human and pig cells, before researchers implanted the developing embryos into surrogate sows.
Altogether, the researchers transferred 1,820 embryos to 13 surrogate mothers, the study said.
After 25 to 28 days, researchers terminated gestation and extracted the embryos to see whether the embryos had successfully produced humanized kidneys.
The researchers collected five pig embryos that had structurally normal kidneys for their stage of development.
The investigators found that the genetic engineering had succeeded in localizing the human cell development mainly to the kidneys, with the remainder of the embryo composed of pig cells.
The study findings were published Sept. 7 in the journal Cell Stem Cell.
"We found that if you create a niche in the pig embryo, then the human cells naturally go into these spaces," senior author Zhen Dai, of the Guangzhou Institutes of Biomedicine and Health, said in a journal news release. "We saw only very few human neural cells in the brain and spinal cord and no human cells in the genital ridge, indicating that the human pluripotent stem cells did not differentiate into germ cells."
This slight proliferation may be further prevented by knocking out more genes in the human stem cells in future studies, the researchers said.
The next step is to allow the kidneys to develop longer, to see if the human cells continue to outcompete pig cells during development. The researchers are also working to generate other human organs in pigs, including the heart and pancreas.
The long-term goal is to create pig-grown human organs ready for transplantation, but the researchers acknowledged that the work will be complex and could take many years.
"Because organs are not composed of just one cell lineage, in order to have an organ where everything comes from the human, we would probably need to engineer the pigs in a much more complex way and that also brings some additional challenges," senior author Miguel Esteban, of the Guangzhou Institutes of Biomedicine and Health, said in the news release.
Scientists will need to figure out a way to completely crowd out the competing pig cells if they want to grow a fully human kidney inside a pig, Mangiola said.
"They need to overcome two barriers," he said. "One is: Can you create a fully functional organ? And the second barrier would be: Can you create an organ that's entirely made of human cells?"
Any pig cells remaining in the kidney increase the likelihood of organ rejection after transplant, he pointed out.
The ultimate goal would be to grow a bespoke kidney comprised of a patient's own cells in a pig, Mangiola said.
"It will be seen by my immune system as self, and not rejected," he explained.
But there's another potential drawback — the possibility that pig viruses would grow in the human cells, Mangiola added.
"Some of these viruses don't create much of a problem in the pig, but, of course, when they are in our body, they could jump species and, in fact, create some new pandemic, which is one of the concerns by the [U.S. Food and Drug Administration] in terms of xenotransplantation," he said.
More information
The Mayo Clinic has more about kidney transplantation.
SOURCES: Liangxue Lai, PhD, deputy director, Southern China Institute of Stem Cell Biology and Regenerative Medicine, Guangzhou Institutes of Biomedicine and Health, Guangzhou, China; Massimo Mangiola, PhD, director, Immunogenetics Laboratory, NYU Langone Transplant Institute, New York City; Cell Stem Cell, Sept. 7, 2023