Even If Issues Emerge, Folks 'Highly Satisfied' With Shelter Rescue Dogs
By Denise Mann HealthDay Reporter | Copyright © 2022 HealthDay. All rights reserved.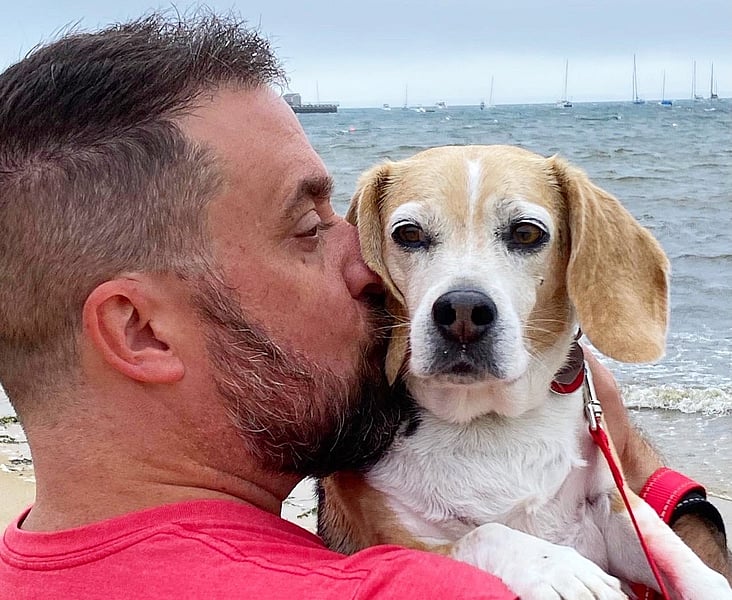 THURSDAY, Aug. 17, 2023 (HealthDay News) -- When Daniel Cooney and his husband Patrick Key adopted Rothko, a coonhound mix, from a shelter eight years ago, it took time to get used to his quirks.
Rothko doesn't always jell with other pups, which means the dog park is often out of the question.
"There are several dogs in the neighborhood that we have to stay away from, but we have gotten good at noticing the signs of aggression well before he reacts," said Cooney, an art gallery owner in New York City.
A few years after Rothko joined the household, the couple adopted Molly from a shelter. The then-12-year-old beagle came with her own set of issues. Her owner had died and friends had just dropped her off at a shelter. "There was something really sad and withdrawn about her," Cooney recalled.
Fast forward a few years and they are all one big, happy family. Cooney thinks Molly even started to age in reverse once she settled in.
"They are such loving dogs and are the center of our lives," he said. "It's so worth it."
A new study shows that a majority of people who adopt shelter dogs feel the same way and are willing to work through any behavioral issues that arise.
Owners reported high satisfaction with their adopted pet despite increases in problem behavior over time.
Strong bonds
About 6.3 million companion animals enter U.S. shelters every year. Of those, about 3.1 million are dogs and 3.2 million are cats, according to the American Society for the Prevention of Cruelty to Animals (ASPCA). About 2 million dogs and 2.1 million cats get adopted, but about 920,000 shelter animals a year are euthanized, the ASPCA said.
The new study included owners of 99 dogs adopted from five Ohio shelters between October 2020 and June 1, 2021. Researchers checked in with owners four times -- after one week and again at one month, three months and six months after the adoption. Owners were asked to fill out standard surveys that measure dog temperament and behaviors.
At every checkpoint, dog owners reported an increase in stranger-directed aggression. What's more, owners also reported more excitability, touch sensitivity, training difficulty and chasing as the study went on. Other behaviors decreased with time, such as separation anxiety and attention-seeking.
The good news? All owners reported their dog adjusted to their new home extremely or moderately well, with about 94% rating overall behavior as excellent or good. Only seven people returned their adopted dog during the study period.
"This speaks to the strong bond people have with their pets, which I see in my exam room every day," said study author Dr. Kyle Bohland, a veterinarian at Ohio State University. "People often love their dogs unconditionally."
His advice to folks wanting to adopt a furry friend? Talk to staff and volunteers at the shelter who know the animal best.
"It can be helpful to start with fostering a dog to see if it is a good match, or many shelters ask community members to take dogs for a night or two for a break," Bohland said. "Those are great opportunities to get to know a dog better compared to a quick greeting in a stressful environment or from a picture online."
Shelters vs. pet stores
Many shelters have resources to help troubleshoot any behavior issues with newly adopted dogs, he added.
While the adopt-don't-shop movement is gaining momentum, many people still get dogs from breeders and pet stores.
"There isn't good data yet on comparing dog behavior after adoption from a shelter, pet store (often from high-volume commercial breeders), or a family breeder, [but] dogs obtained from pet stores tend to have more behavior problems overall," Bohland said.
The research was published Aug. 16 in the journal PLOS ONE.
The new findings are welcome news to animal welfare advocates.
"It's exciting to see that despite an increase in some behavioral concerns that initially arise post-adoption, the majority of the adopters reported their new dog's behavior as excellent or good," said Amanda Kowalski, vice president of animal welfare at the San Diego Humane Society, who reviewed the findings. "More exciting is that this study adds to the much-needed research on post-adoption behavior in dogs."
These findings can help set new pet owners up for success, Kowalski said.
The research sheds some light onto these dogs' behaviors for the first six months after adoption, said Dr. Jamie Whittenburg, veterinarian director at Senior Tail Waggers, a group that offers advice on caring for senior pets, and director of Kingsgate Animal Hospital in Lubbock, Texas.
"Most importantly, none of the surveyed owners reported a 'fair' or 'poor' satisfaction with their dogs' behavior after 90 days, and all owners eventually reported that their dogs adapted well to their new homes," said Whittenburg, who also reviewed the study. "This information may be useful to shelter employees and others to help these dogs assimilate into their new homes and ensure a smoother transition."
More information
The Humane Society of the United States has tips for folks considering adopting a shelter or rescue pet.
SOURCES: Daniel Cooney, art gallery owner, New York City, Kyle Bohland, DVM, MS, veterinarian, Ohio State University Veterinary Medical Center, Columbus; Amanda Kowalski, MS, vice president, animal welfare, San Diego Humane Society; Jamie Whittenburg, DVM, veterinarian director, Senior Tail Waggers, and director, Kingsgate Animal Hospital, Lubbock, Texas; PLOS ONE, Aug. 16, 2023