Dementia Diagnosis Takes Huge Toll on a Family's Finances
By Alan Mozes HealthDay Reporter | Copyright © 2022 HealthDay. All rights reserved.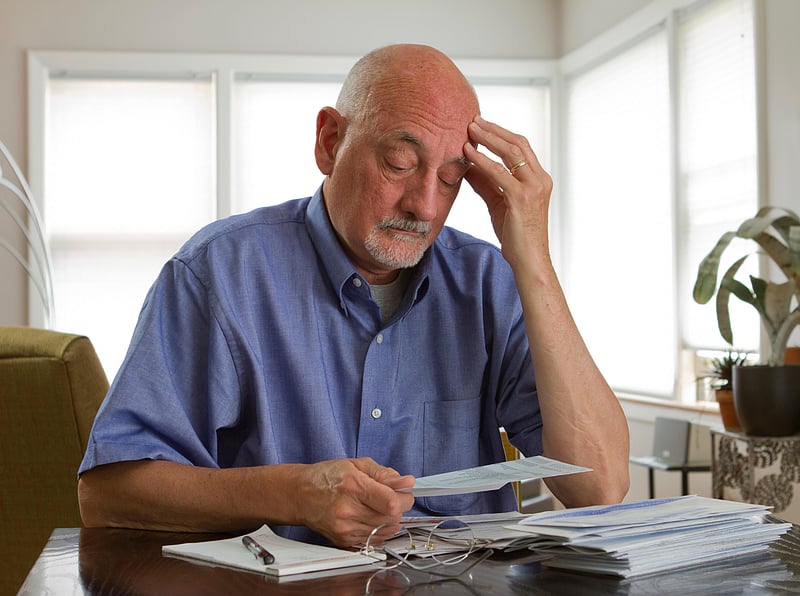 WEDNESDAY, Oct. 18, 2023 (HealthDay News) -- Dementia can take a big bite out of an American's bank account, robbing 60% of a patient's net worth in the eight years after a diagnosis, a new study says.
The average dementia patient will also see a doubling of out-of-pocket health care expenses in those first eight years, said researchers who studied thousands of seniors with and without the brain disorder.
"We found a profound diverge in the financial status between two [patient] scenarios: one with dementia onset and one without the onset," said study lead author HwaJung Choi. She's a research associate professor with the University of Michigan's School of Medicine and School of Public Health.
"The magnitude and timing of the divergence are indeed surprising to us," added Choi, who is also a faculty associate with UM's Institute for Social Research.
Dementia also places significant demands on family members, with relatives providing about 45 hours of care a month on average by the end of two years compared with 13 hours for those without dementia, the research team found.
For the study, investigators analyzed financial health data on more than 4,800 men and women aged 55 and up. All had participated in an ongoing biannual survey called the Health and Retirement Study, and were dementia-free at the time of enrollment.
Between 1998 and 2018, roughly half were diagnosed with dementia onset.
While those with dementia saw their out-of-pocket health care expenses skyrocket and their overall net worth plummet, those who remained dementia-free during the study experienced little change in either the size of their nest egg or their health care bills, researchers found.
On average, out-of-pocket medical spending rose from $4,000 to $8,000 within the eight years following a dementia diagnosis, noted Choi, while total net worth dropped from $80,000 to $60,000 in just the first two years.
"These are sizable amounts," she stressed, "especially when we consider the median annual income of the study sample was about $23,000."
One reason dementia patients fall into financial trouble is they are much more likely to have to spend money on at-home health care that is not fully reimbursable by Medicare.
Because of physical and cognitive, or mental, impairments, Choi explained that someone with dementia may need help getting dressed, getting in and out of bed, toileting and bathing. "Therefore, comprehensive and extensive long-term care is often needed for people with dementia to assist with daily activities as well as medical conditions," she said.
Long-term care services can cost several thousand dollars per month, Choi said. And the financial burden that ensues can affect those within a patient's immediate social orbit, the study team found.
Some can rely on loved ones for care, but nearly 1 in 3 patients without a spouse or child to care for them care were living in a nursing home eight years after the diagnosis.
Medicaid can cover some of the costs of at-home care and/or nursing home care that Medicare doesn't cover, said Choi. But that requires that "patients exhaust [all] their own financial resources."
The study found that many dementia patients do just that, with enrollment in Medicaid -- insurance for the poor -- almost doubling in the eight years after diagnosis.
So what can patients do to protect their finances prior to a dementia diagnosis?
Simply being cognizant of the seriousness of the problem would be a start, suggested Choi, given that "many seniors and their families are not aware of the possible financial toll associated with dementia onset."
As a practical matter, "to buffer against substantial loss of assets and to have more care options, having a long-term care insurance policy would be wise and almost necessary," she added.
Jing Li is an assistant professor of health economics with the University of Washington School of Pharmacy in Seattle.
"The sheer magnitude of [dementia's] potential impact on household finances, and how early it can start, is quite striking," said Li, who was not involved in the study.
As for what you can do to protect your finances as you age, she suggested "having a sound plan in the event that one is unable to manage their own finances or health care effectively."
Beyond having long-term care insurance -- which "may not provide sufficient coverage for older adults' long-term care needs" -- Li said it is advisable to set up a power of attorney, so loved ones trusted with caring for an elderly family member have the tools to do so.
The findings are in the Oct. 16 issue of JAMA Internal Medicine.
More information
There's more on aging and money at the U.S. National Council on Aging.
SOURCES: HwaJung Choi, PhD, research associate professor, Department of Internal Medicine, University of Michigan School of Medicine, and health management and policy, School of Public Health, and faculty associate, Survey Research Center, Institute for Social Research, Ann Arbor; Jing Li, PhD, assistant professor, health economics, University of Washington, Comparative Health Outcomes, Policy and Economics Institute, School of Pharmacy, Seattle; JAMA Internal Medicine, Oct. 16, 2023