Deaf Children 'Equal, Healthy and Whole,' Pediatricians' Group Affirms
By Denise Mann HealthDay Reporter | Copyright © 2022 HealthDay. All rights reserved.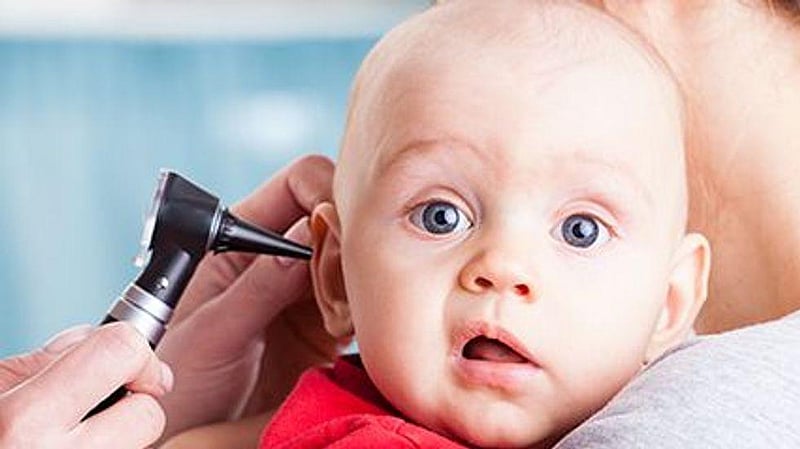 WEDNESDAY, Aug. 30, 2023 (HealthDay News) -- It's time for everyone to change the words we use when we talk about kids who are deaf or hard of hearing.
This is one of the main messages from newly updated guidelines from the American Academy of Pediatrics on hearing in infants, children and teens.
"The removal of deficit-framing terminology such as 'loss,' 'failed' and 'impairment' was to reflect that children who are deaf or hard of hearing are equal, healthy and whole," said report author Dr. Charles Bower, a pediatric otolaryngologist at Arkansas Children's Northwest.
Words like hearing-impaired or loss focus on what people can't do, he said.
"The terminology needs to change because kids who never had hearing from birth have not experienced a loss. It is their normal. They are not impaired," Regina Zappi added. "Their hearing is simply different." Zappi is the associate director of audiology practices at the American Speech-Language-Hearing Association in Rockville, Md.
A difference in hearing does not define a child's ability to be successful in life, she said. "We now use the terms of deaf, hard of hearing, or atypical hearing to identify a difference, but not as a way to identify their ability or likelihood of being successful or able."
These changes have been a long time coming, Zappi noted.
This change in terminology was first introduced in the 2019 Joint Committee on Infant Hearing Position Statement. "It is great that this is now being incorporated in other documentation which will reach a wider audience of health care professionals," Zappi said.
There isn't necessarily a one-size-fits-all way to refer to a person who is hard of hearing or deaf, added Barbara Kelley, executive director of the Hearing Loss Association of America in Rockville, Md. "It is really up to the individual."
The move away from words like impaired and loss started within the deaf community.
"Deaf culture communicates using sign language, and they don't feel impaired so the wording doesn't make sense to them," Kelley explained.
Language matters, agreed Dr. Alisha West. She is chief of pediatric head and neck surgery at UCLA David Geffen School of Medicine in Los Angeles. When she trained as a physician, hearing impaired was the appropriate way to refer to people who were deaf or hard of hearing.
Not anymore. "Hearing impaired implies that something is wrong, missing or not whole," West said. She uses medical terms and objective data when discussing hearing issues with parents.
Updated for the first time since 2009, the new guidelines also address screening for hearing issues in children and teenagers. As it stands, all newborns are screened in the hospital after birth, but this doesn't catch children who become deaf or hard of hearing later in childhood, the guidelines state.
Genetic causes that impact hearing may show up with advancing age. In addition, infectious diseases that cause a change in hearing can occur in toddlers and older kids.
If these changes aren't picked up in a timely fashion, kids can miss out on receiving adequate support, which can result in problems with learning and socializing.
"If families have any concern for speech and language development or hearing problems, they should check with their physician," Bower said. "It is important to make all scheduled physician visits for routine care, which includes risk assessment and intermittent objective hearing screening."
The new guidelines were published online Aug. 28 in Pediatrics.
They also raise awareness about screening kids for hearing issues as they age if any signs arise.
Hearing changes can happen after a normal early infant screen, said Dr. J. Thomas Roland Jr. He is a professor of otolaryngology-head and neck surgery and professor of neurosurgery at NYU Langone Medical Center in New York City.
"The article also outlined that hearing loss in these age groups is more prevalent than we think," said Roland, who reviewed the guidelines. "Additionally, behavioral problems at school or in social settings could well be that the child just isn't hearing well and is frustrated."
Don't screen a kid multiple times if they keep failing hearing tests, added Dr. Marie Homsi, a pediatric otolaryngologist at NYU Langone Medical Center.
"This only delays the diagnosis and treatment," Homsi said.
It's also important to be on the lookout for red flags that suggest a child may be hard of hearing. "Speech delay is the main one," said Homsi, who also reviewed the report. "Other red flags include being shy or asking a parent, teacher or caregiver to repeat things."
More information
The American Academy of Pediatrics offers more on hearing screening in children.
SOURCES: Charles Bower, MD, pediatric otolaryngologist, Arkansas Children's Northwest, Springdale; Regina Zappi, AuD, associate director, audiology practices, American Speech-Language-Hearing Association, Rockville, Md.; Barbara Kelley, executive director, Hearing Loss Association of America, Rockville, Md.; Alisha West, MD, chief, pediatric head and neck surgery, UCLA David Geffen School of Medicine, Los Angeles; J. Thomas Roland Jr., MD, professor, otolaryngology-head and neck surgery, professor, neurosurgery, NYU Langone Medical, New York City; Marie Homsi, MD, pediatric otolaryngologist, NYU Langone Medical Center; Pediatrics, September 2023