Could Living Football Players Be Overdiagnosed for CTE?
By Dennis Thompson HealthDay Reporter | Copyright © 2022 HealthDay. All rights reserved.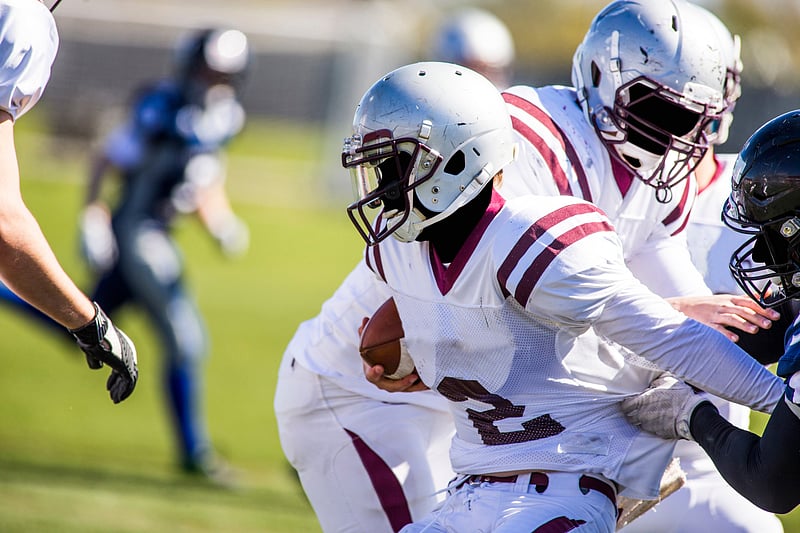 FRIDAY, Oct. 6, 2023 (HealthDay News) -- Former pro football players with symptoms of depression or anxiety are far more likely to receive an unverifiable diagnosis of chronic traumatic encephalopathy (CTE) than players without those mental health conditions, a new study reports.
Players with depression are 9.5 times more likely to be diagnosed with CTE, while players with both depression and anxiety are 12 times more likely, the study results showed.
The problem: At this point CTE can only be diagnosed as part of a brain autopsy.
"CTE can only be diagnosed after death," said lead author Shawn Eagle, a research assistant professor of neurological surgery at the University of Pittsburgh School of Medicine. "It shouldn't be diagnosed in anyone while they're living. Being told you have CTE when you're alive is a problem because there's no valid test to diagnose CTE in a living person."
Researchers argue that those players' doctors are dropping the ball by handing out a CTE diagnosis, because there are effective treatments for the mood disorders that led to the diagnosis.
"Depression, anxiety and sleep apnea produce cognitive symptoms, are treatable conditions, and should be distinguished from neurodegenerative disease," Eagle said. "CTE is a neurodegenerative disease without available treatments or available diagnosis in a living person."
CTE is a degenerative brain disease that can be caused by repeated head impacts and concussions. It usually affects athletes who play contact sports, but also has been found in military veterans and others with a history of repeated brain trauma.
Specific brain changes tied to CTE, such as buildup of a protein called tau, can be found during an autopsy. But no specific symptoms have been clearly linked to CTE.
Indeed, many possible CTE symptoms can be caused by other conditions. Symptoms associated with CTE include trouble thinking, memory loss, impulsive behavior, aggression, mood disorders, substance abuse and problems with movement, walking and balance.
For the study, Eagle and his colleagues reviewed responses to a health survey of former pro football players.
More than 4,000 responded to the survey, and 77 (about 2%) said a doctor had diagnosed them with CTE.
The likelihood of a CTE diagnosis was significantly higher in players with depression or a combination of depression and anxiety, the study found.
Intense media attention on CTE could be leading doctors to diagnose the condition based on symptoms of a mood disorder, Eagle said.
"Our concern in general is that a physician may be more likely to associate football history with causing those things," he said. "For example, if another person went to the hospital with no football history at all and those exact symptoms, no physician would ever say to them, you must have CTE."
Dr. Charles Bernick, a staff neurologist at the Cleveland Clinic Lou Ruvo Center for Brain Health, agreed that doctors should set CTE aside when treating former players.
"We can't make a diagnosis of CTE, but the symptoms are treatable," he said. "A clinician should be treating these conditions, whether it's sleep apnea or depression or anxiety, that in and of themselves may be causing the issue."
However, Bernick noted that most doctors are already conservative in diagnosing CTE.
"You would think that the risk of true CTE in a population of retired football players is higher than 2%," Bernick said. "So it looks like a lot of clinicians are doing what they should be doing."
When promoting CTE studies, Chris Nowinski, CEO of the Concussion Legacy Foundation, said "we emphasize that midlife mental health disorders and cognitive symptoms among contact sports athletes may not be related to CTE, and patients should seek care from a medical professional."
He said doctors are in a difficult position when treating former National Football League (NFL) players.
"Studies have shown at least 10% of former NFL players have CTE pathology, and the true prevalence is likely much higher," Nowinski said. "While we don't understand all the clinical correlates of this neurodegenerative disease, we do know it is not benign."
When all other disorders have been ruled out, many leading academic neurologists are comfortable giving a suspected CTE diagnosis to former athletes who have a progressive cognitive impairment, he said.
"That doesn't prevent them from aggressively treating mental health symptoms," Nowinski added.
The study was published Oct. 6 in the journal Sports Medicine.
More information
The Cleveland Clinic has more about CTE.
SOURCES: Shawn Eagle, PhD, research assistant professor, neurological surgery, University of Pittsburgh School of Medicine, Penn.; Charles Bernick, MD, MPH, staff neurologist, Cleveland Clinic Lou Ruvo Center for Brain Health, Ohio; Chris Nowinski, PhD, CEO, Concussion Legacy Foundation, Boston; Sports Medicine, Oct. 6, 2023