CDC Stops Issuing New COVID Vaccination Cards
By Cara Murez HealthDay Reporter | Copyright © 2022 HealthDay. All rights reserved.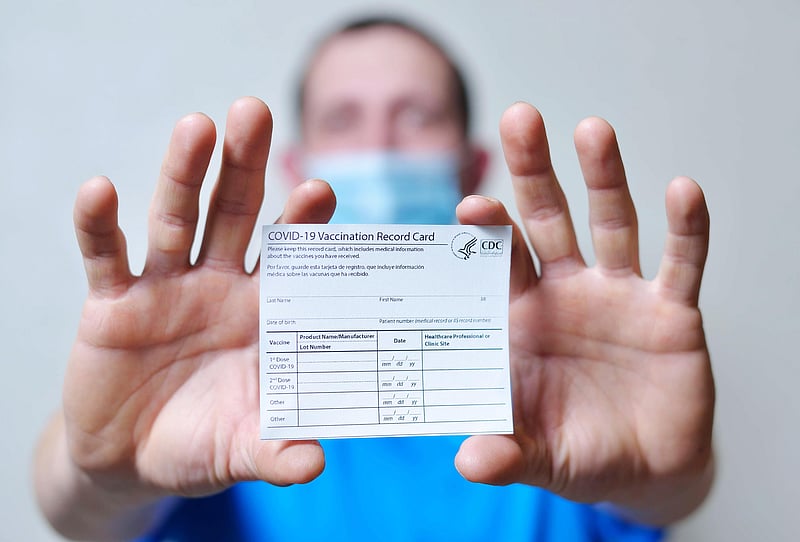 THURSDAY, Oct. 5, 2023 (HealthDay News) -- Wallet-friendly cards showing proof of COVID vaccinations served a purpose early in the pandemic, but they're on their way out.
The U.S. Centers for Disease Control and Prevention has stopped printing the cards, likely changing how people track their shots in the future.
The cards people have at home can still be used as proof of vaccination, and in many cases you can request your immunization history from the pharmacy or clinic where you received your vaccines.
Vaccination records may vary a little, depending on where you live.
Each state and some cities maintain an immunization registry. Records should be available from those for vaccines received at mass vaccination events, depending on state laws, the Associated Press reported.
In Texas, a person needs to provide written consent to be added to the registry, David Andres Alegria, spokesman for the San Antonio Metropolitan Health District, told the AP. In Wyoming, the state requires vaccine providers to log all vaccinations.
An individual's record may be available online or through an app, an option in many states. Some allow users to save a certificate or QR code, the AP reported.
Washington state offers both a COVID-specific list of a person's vaccinations or a comprehensive list of all past vaccines, the AP reported.
"One of the positives [during the pandemic] was having increased autonomy on your patient record, especially the immunization record," Jeff Chorath, who manages the immunization information system in Washington state, told the AP.
Some states may be less efficient or have gaps in their databases. A vaccine provided by a federal health provider may be logged elsewhere, the AP reported.
Before this change, the federal government shipped out 980 million cards, starting in late 2020. Printing has stopped because the federal government is no longer shipping the vaccines, the AP reported.
Wyoming Department of Health nurse consultant Heidi Gurov suggests that people still hang onto their old vaccine cards.
"It's always good to keep those in a safe spot," she told the AP.
More information
The U.S. Centers for Disease Control and Prevention has more on COVID boosters.
SOURCE: Associated Press