Cases of Obesity-Linked Liver Disease Rising Steeply Among Americans
By Dennis Thompson HealthDay Reporter | Copyright © 2022 HealthDay. All rights reserved.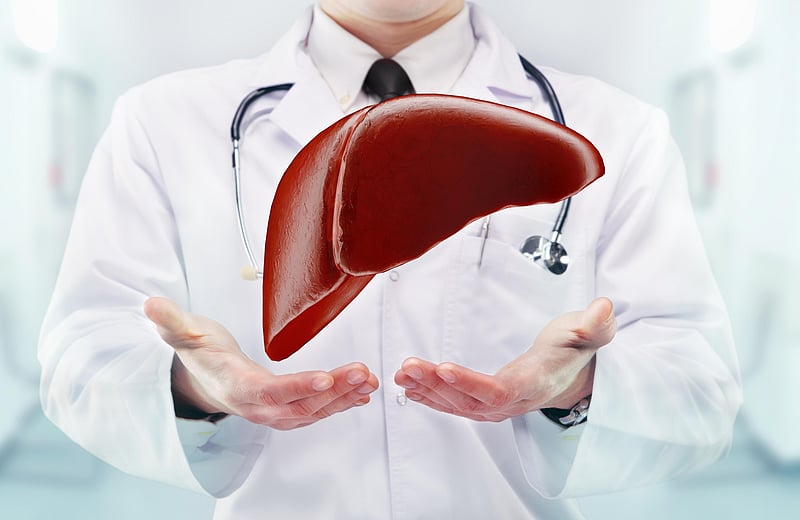 MONDAY, June 19, 2023 (HealthDay news) -- Fatty liver disease is increasing rapidly among Americans, outpacing obesity rates across many racial groups and affecting the liver health of millions, a new study reports.
Overall, metabolic dysfunction-associated fatty liver disease (MAFLD) in Americans increased 131% during the past three decades, rising from 16% in 1988 to 37% in 2018, the researchers said.
By comparison, obesity only increased by 74% during the same period, affecting 40% of Americans by 2018, according to findings presented Friday at the Endocrine Society's annual meeting, in Chicago.
"This is an important condition that seems to be getting worse over time," said Dr. Theodore Friedman, chair of internal medicine at the Charles R. Drew University of Medicine & Science, in Los Angeles. "The rate has increased more than the rate of obesity in the United States."
Fatty liver disease occurs when excess fat begins to be stored in the liver, causing inflammation and eventually scarring, Friedman said. It's akin to foie gras or pate, which is created by overfeeding ducks or geese.
"Most people can live with fatty liver disease, but some people progress to the liver not working, cirrhosis of the liver or liver cancer," Friedman said.
Some with fatty liver disease need an organ transplant, Friedman said.
"I think it's less than 1%. It's not that often," Friedman said of liver transplants. "But because in the United States, maybe 100 million people may have this MAFLD, we're talking still about several thousand people that may need a liver transplant."
Fatty liver disease "has now become the leading cause of liver transplant in women," said Dr. Anastasia-Stefania Alexopoulos, an endocrinologist with Duke Health in Durham, N.C. "It's surpassed hepatitis C, and I'm sure in the near future will also be the same case in men."
People with risk factors like obesity, type 2 diabetes or metabolic syndrome are more likely to develop fatty liver, Alexopoulos said.
For this study, Friedman and his colleagues used federal survey data to assess the percentage of Americans who developed fatty liver disease between 1988 and 2018.
The researchers found that fatty liver disease increased most among white Americans, rising 133% between 1988 and 2018 to affect about 35% of the population. By comparison, the obesity rate for whites increased by just 77%.
Mexican-Americans are most likely to have fatty liver disease among all ethnic groups, with 58% affected in 2018. It increased about 61% during the three decades, compared with a 58% increase in obesity.
Black Americans are less likely to have fatty liver disease, with about 25% affected. However, it also increased dramatically in Black people, rising 127% between 1988 and 2018 compared with a 59% increase in obesity.
"If you look at it, it's across all races, all ethnicities, and even in Black individuals who traditionally have been thought to have much lower prevalence of MAFLD, it's still increasing in that group as well," Alexopoulos said.
The rising obesity rate is contributing to the spread of fatty liver disease, but the fact that the disorder is outpacing obesity suggests something more is afoot, Friedman said.
Friedman suspects American lifestyles are largely contributing to fatty liver disease.
"People are just eating worse foods and not exercising, and it's affecting their liver as well as their overall health," Friedman said.
Fatty liver disease can be detected with simple blood tests performed as part of an annual checkup, followed by an ultrasound or imaging scan, Friedman and Alexopoulos said.
Unfortunately, these tests either aren't being done or the results aren't being shared with patients, Alexopoulos said.
"Probably the majority of people out there who have fatty liver don't even know," she said. "I feel like a lot of times it's been overlooked, or it's something that's been noticed by a doctor but it's not been discussed with the patient, the importance of it."
The good news is that fatty liver disease can be reversed, because the liver has a remarkable ability to heal itself, Friedman and Alexopoulos said.
"You can even reverse cirrhosis," Alexopoulos said. "Even if you have early cirrhosis, early scarring of the liver, you can even reverse that with drastic measures. This is reversible up until it gets to the point where you have liver failure, and then you're having a lot of other complications that are irreversible."
Diet, exercise and weight loss are the main ways to reverse fatty liver disease, Friedman and Alexopoulos said.
"If you lose even 5% of your body weight, you can reverse some of the fat in the liver," Alexopoulos said. "If you lose more than 7% to 10% of your body weight, you can actually reverse scarring."
Weight-loss medications like Ozempic can help people drop the weight and restore their liver health, but "number one it's going to be the hard stuff, diet and lifestyle," Alexopoulos said.
Findings presented at medical meetings should be considered preliminary until published in a peer-reviewed journal.
More information
The Cleveland Clinic has more about fatty liver disease.
SOURCES: Theodore Friedman, MD, PhD, chair, internal medicine, Charles R. Drew University of Medicine & Science, Los Angeles; Anastasia-Stefania Alexopoulos, MBBS, MHS, endocrinologist, Duke Health, Durham, N.C.; presentation, Endocrine Society, annual meeting, June 16, 2023, Chicago