Black Americans' Risk for MS May Be Higher Than Thought
By Amy Norton HealthDay Reporter | Copyright © 2022 HealthDay. All rights reserved.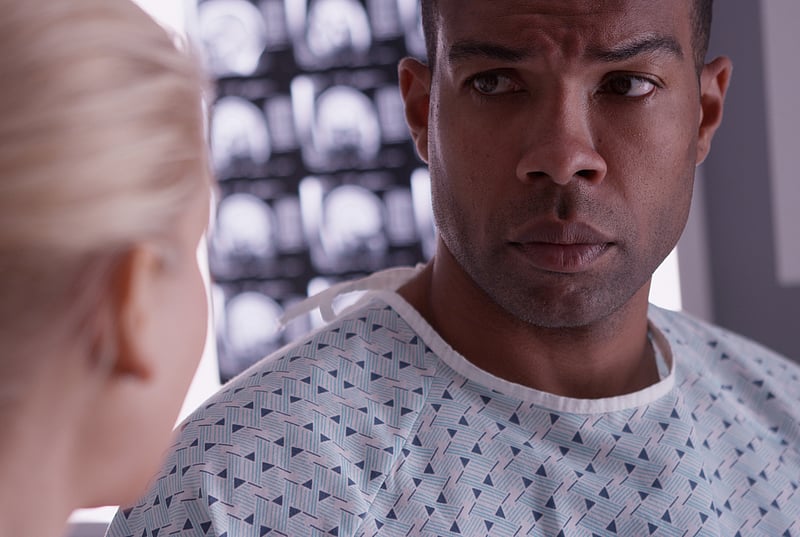 WEDNESDAY, June 14, 2023 (HealthDay News) -- For years, multiple sclerosis was seen as a disease that largely affects white people. But a new study finds that it's much more common among Black Americans than previously believed.
Researchers found that in 2010, an estimated 3 out of every 1,000 Black Americans were living with multiple sclerosis (MS). That was less than the prevalence among white Americans, at 4 out of every 1,000, but substantially higher than previous estimates.
Meanwhile, MS was less common among Americans of other races and ethnicities, but they were certainly not immune — with a prevalence of roughly 2 cases per 1,000.
"This is not just a 'white person's disease,'" said senior researcher Dr. Mitchell Wallin, an associate professor of neurology at the University of Maryland School of Medicine, in Baltimore. "You can get MS if you're Black, or if you're Hispanic, or Asian or Native American."
That's a critical message for doctors, Wallin said, some of whom might "dismiss" the possibility of MS when people of color have potential symptoms of the disease.
Bruce Bebo, executive vice president of research for the National Multiple Sclerosis Society, agreed.
For years, doctors and the general public alike heard the teaching that MS mainly affected people of northern European descent. But that was a flawed message, Bebo said, probably based on older, flawed studies.
"Hopefully, this new study will increase awareness that anybody can get MS," Bebo said.
One reason that's so important, he said, is that the earlier MS is diagnosed, and the sooner people start on recommended therapies, the better their outlook.
MS is a neurological disorder caused by a misguided immune system attack on the body's own myelin — the protective sheath around nerve fibers in the spine and brain. Because the central nervous system is affected, MS symptoms can be wide-ranging. But among the most common are fatigue, vision problems, muscle weakness, numbness, and difficulty with balance and coordination.
Most people with MS have the relapsing-remitting form — where symptoms flare for a period, then recede. Over time, the disease becomes more steadily progressive.
However, there are "disease-modifying" drugs for MS that can reduce symptom flares and delay disability.
The new study, published online recently in the journal JAMA Neurology, is part of an effort to get a better handle on how many Americans have MS.
While that might sound like a simple statistic, it's actually hard to determine, Wallin said.
MS most often arises between ages 20 and 40, and there is no unified system for tracking the health information of younger Americans — who are on a wide range of private insurance plans or government plans through Medicaid or the military.
In a 2019 study, Wallin and his colleagues estimated that the overall national prevalence of MS is about twice as high as previously believed — at close to 1 million people living with the disease.
The researchers made that calculation by pulling together multiple data sets of private and public health insurance claims, and applying an algorithm to the numbers. They used the same approach in the new study, to dig deeper into MS prevalence by race and ethnicity.
In all, there was information on 96 million Americans who were insured between 2008 and 2010.
While white adults showed the highest prevalence of MS, at 4 per 1,000 people, Black Americans were not far behind, at 3 per 1,000. MS was least common among Hispanic Americans, whose prevalence rate was 1.6 per 1,000. Because of data limits, the researchers had to group Asian, Native American and multiracial people into an "other" category; the group's MS prevalence was 2 per 1,000.
Bebo noted, though, that those numbers could very well be underestimates. The health insurance records often lacked information on race and ethnicity, and Americans of color — even with insurance — often face more barriers in accessing health care, including seeing neurology specialists.
But while the numbers might not be on the money, both experts said the message is clear: Doctors should have MS on their radar for all patients with potential symptoms.
"That awareness could help people get an accurate diagnosis more quickly, and get started on disease-modifying therapy," Bebo said.
He noted that the MS Society for the past few years has hosted a Black MS Experience program, to help Black people living with MS connect in-person and online. The program's annual online "summit" is happening June 14 to 15.
The MS Society funded the study.
More information
For more on the Black MS Experience program, visit the MS Society.
SOURCES: Mitchell Wallin, MD, MPH, associate professor, neurology, University of Maryland School of Medicine, Baltimore; Bruce Bebo, PhD, executive vice president, research, National Multiple Sclerosis Society, New York City; JAMA Neurology, May 15, 2023, online