AHA News: 'I Feel Like I'm Dying': Days After Giving Birth, TV Anchor Couldn't Make Sense of Symptoms
By American Heart Association News | Copyright © 2022 HealthDay. All rights reserved.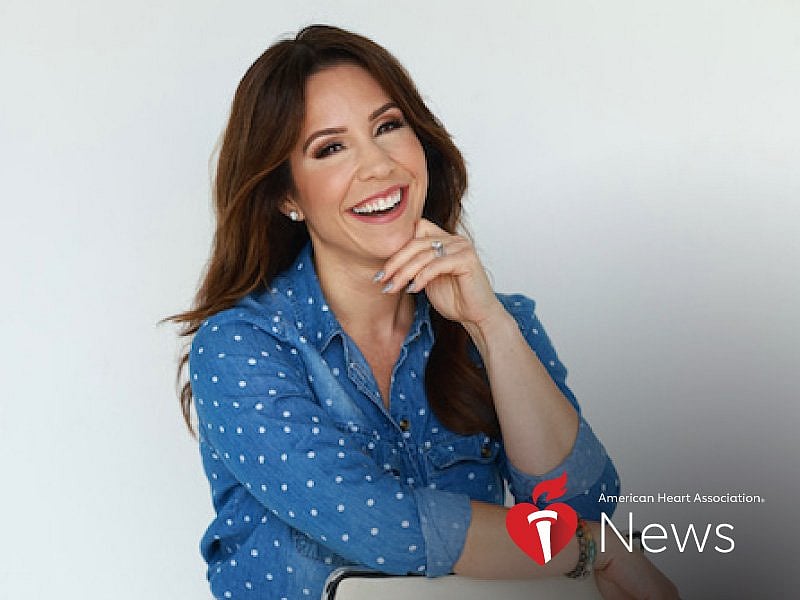 FRIDAY, Aug. 18, 2023 (American Heart Association News) -- Five days after giving birth to her second child, Lauren Lowrey woke up with a sharp pain in her upper back. She couldn't draw in a deep breath.
The TV news anchor, who was living in Indianapolis at the time, was recovering from a delivery via cesarean section. But her symptoms didn't make sense. When she tried to sleep, she woke up gasping for air. She had a headache. She thought it strange she hadn't lost a pound since leaving the hospital, as she had with her first child.
Her older sister, Jessica, didn't like how things were going, either. Seeing her on a video chat, Jessica asked to speak with their mother, Debbie, who was with Lauren.
"Lauren doesn't look right," Jessica said. Debbie helped her daughter lie down.
As she rested, Lauren strapped on a fitness watch to gauge her heart rate. It was 40 beats per minute. As a runner, her heart rate was typically low, but not that low. When her husband, Blake, walked into the bedroom, tears streamed down her face.
"How are you feeling?" he asked.
"I can't breathe," she said. "It feels like there are bricks on my chest. I feel like I'm dying." She feared that if she closed her eyes, she wouldn't wake up.
Blake rushed to the pharmacy to buy a blood pressure monitor. At home, he slipped the cuff on her arm. At around 120/80, the readings looked normal. But not for Lauren. Her blood pressure typically hovered around 100/60.
Blake called Lauren's doctor. "Get to the hospital as quickly as you can," she said. He packed a bag – for Lauren and baby Landon. Daughter Sammy, who was 2, stayed home with grandma.
Still, Blake wasn't alarmed. His wife ate a healthy diet and exercised regularly. Her body was responding to the surgery, he figured. She needed time to heal.
In the hospital, tests didn't indicate any problems. Lauren's doctor turned to her. "What do you want to do?"
"Something is terribly wrong," she said. "I can't leave here until we figure it out."
Her doctor proposed one more test, a CT scan. If it looked good, Lauren would go home.
It was nearing midnight when Lauren wept inside the whirring CT machine. Back upstairs, she and Blake waited for the results. Then her blood pressure spiked to 199/135. Alarms went off.
Nurses rushed in and gave her a medication to lower her blood pressure. Ten minutes later, CT results came back. Lauren's heart was enlarged and her lungs were filled with fluid. Without treatment, her doctor said, she could have a heart attack or stroke.
"She said, 'Because you fought to be heard, that's why you're alive tonight,'" Lauren said.
Lauren was diagnosed with severe postpartum preeclampsia, a condition where blood pressure rises after childbirth and excess protein appears in the urine. Cases typically occur within days of giving birth, but others happen weeks later. The cause isn't well understood.
"It was such an abrupt turn," Blake said. "To go from celebrating the birth of your second child to scrambling to save your wife. That shock lingers."
Lauren got a magnesium drip to prevent seizures as her blood pressure stabilized. She stayed in the hospital for three days with her baby sleeping in a bassinet by her side. She felt better but couldn't sleep.
"I kept staring at the ceiling thinking, 'I nearly just died and I saved my own life,'" she said. "I couldn't come to terms with it."
Lauren stayed on blood pressure medication for a few weeks. Her physical recovery was smooth. Psychologically, she struggled. "I was so traumatized," she said. Ultimately, therapy helped. "I was able to overcome the trauma and have a third child."
Baby boy Bowen was born in August 2020 after an uneventful pregnancy and birth.
Now, five years after her emergency hospital visit, the family of five – including Sammy, 7, Landon, 5, and Bowen, 3 – lives in Nashville, Tennessee, where Lauren has a TV news anchor job. She's done news stories about preeclampsia to spread awareness and help erode common misconceptions.
She also speaks at American Heart Association events.
Preeclampsia is not simply a pregnancy disease, Lauren said. "It's a heart problem."
She wants people to know that being healthy doesn't preclude you from developing preeclampsia. She had zero contributing factors.
And critical, too, said Lauren, is that research shows women with a history of preeclampsia are more likely to develop high blood pressure or heart disease later in life. Regular care is important to make sure any problems are caught early.
Recently, Lauren learned her cholesterol was slightly elevated. Her doctor gave her three months to bring it down through diet – and she did. She ate mostly vegan, focusing on vegetables, nuts, seeds and beans, and her LDL level fell from the 130s to below 100. "Because I made such progress on my own, I will not need to go on medication," she said.
"Lauren is a tough cookie," Blake added. "She's here today because she listened to her body and because her doctor took a moment to step back and to really listen. Now, she's doing great."
American Heart Association News covers heart and brain health. Not all views expressed in this story reflect the official position of the American Heart Association. Copyright is owned or held by the American Heart Association, Inc., and all rights are reserved.
By Deborah Lynn Blumberg, American Heart Association News