AHA News: Actors Who Had Strokes at Musical Productions 2 Years Apart Are Now Married
By American Heart Association News | Copyright © 2022 HealthDay. All rights reserved.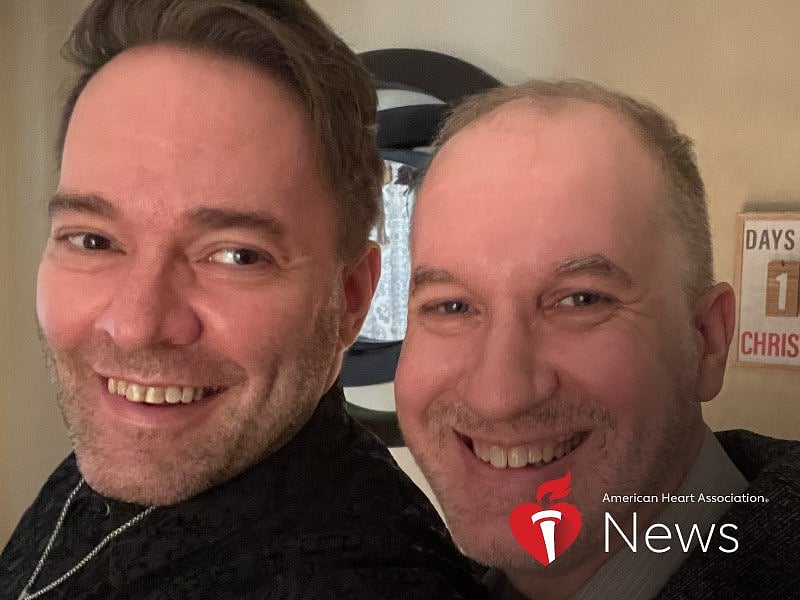 WEDNESDAY, June 14, 2023 (American Heart Association News) -- Shortly after Job Ethan Christenson left the stage after singing and dancing in a national Broadway production of "Billy Elliot," he was chatting with two audience members in the theater's lobby when he collapsed into their arms.
Two years later, Jason Vance Campbell delivered a line that didn't make sense during a matinee performance of the musical "Life Could Be a Dream." Then he slumped onto the stage.
Both had cryptogenic strokes, or ones with no known cause. Both were in their 30s.
A mutual friend and would-be matchmaker introduced them several years ago, figuring that as actors who had strokes so early in life, they'd have a lot in common. Indeed, they bonded so deeply that last year they married.
"Jason and I share a trauma bond," said Christenson, "and that is very powerful and profound and also hard. Like any relationship, it's a give and take and a learning process. But we feel like we're bonded for life. We call ourselves 'holy soul mates.'"
Christenson's journey began three days after Christmas in 2012.
While performing in Baltimore, he danced and sang in his "Billy Elliott" coal miner's uniform. Then, for the final number, he donned a white tutu along with the rest of the cast. After the show, he joined his fellow actors in the lobby to collect donations for an AIDS-related nonprofit.
His vision blurred. He saw a white film, a fogginess, and noticed his body tilting. He fell into the arms of a man and woman who'd stopped to make a donation.
They helped him to a nearby couch. Christenson was conscious. His company manager rushed over to help and said, "Oh my goodness, your face is drooping."
Christenson knew that face drooping was a sign of stroke, and he knew then, at 38, that he was having one.
At the hospital, doctors told him he'd had a hemorrhagic stroke, or one in which a blood vessel ruptures and bleeds into the brain. He couldn't move the right side of his body or speak.
"I went from dancing on stage to being in a wheelchair within seconds," he said.
Christenson spent a month in voice and occupational therapy in Baltimore. He regained his ability to speak and walk. Still, he feared speaking and struggled to organize his thoughts. He had partial permanent blindness in his right eye, lost use of his right hand and had a significant limp when walking.
With his family history – his mother died from a stroke in her 50s and his brother died at 51 – his doctors wanted to monitor him closely, so he also got a heart monitor. Christenson wanted to take back his artistic life. He enrolled in school for playwriting. He's since written a play and movie about his experience.
He's also earned a masters in social work and recently started working as a therapist-in-training with local families.
Campbell, meanwhile, had a different type of stroke caused by a clot. He was 20 minutes into a performance in Richmond, Virginia, when he blacked out on stage. Someone called 911. Thanks to the immediate response, he arrived at a hospital in time to receive clot-busting medication. But he'd already experienced significant damage to a part of his brain responsible for language.
He spent three weeks in stroke rehab, supported by his parents, his partner at the time and close friends. At some point in that span, he finally grasped that he'd had a stroke at 34.
"But I'm not old," he told a friend.
Doctors told Campbell he'd be permanently disabled, never able to walk or work again.
He went home dealing with aphasia, trouble speaking and understanding speech, and apraxia, movement difficulties due to brain damage. He struggled to speak clearly. He became depressed. Doctors and his loved ones worried about his mental health. Family and friends stayed with him around the clock.
Then he learned about a center in Florida that specialized in caring for people with aphasia. Family helped pay for the six-week program not covered by insurance. It included intensive speech therapy.
Campbell regained the ability to say his name. One particular hurdle was recalling the word "October."
"I kept saying 'before November,'" he said. Then came the day he said, "October."
While Campbell continues to make progress with his language, he struggles at times to find the words he wants. He simply can't express himself like he did before the stroke.
Having overcome so much, he wanted to work again. He applied for an usher job at a New York movie theater but was turned down. Still, he keeps pushing himself. He started speaking about his story in public. He also hosts virtual church services for a Virginia church and enjoys going to the Museum of Modern Art.
In 2017, Campbell was in Florida. Christenson was living in New York. A mutual friend shared their unique stories and made introductions.
The two bonded over video calls – weekly at first, then almost daily.
In April 2020 – early in the pandemic, and with the two still not having met in person – Campbell told Christenson he liked him. In June, they became a couple. In July, they finally met in person in Virginia.
"We COVID tested. We did the whole spiel," said Christenson.
Over the next eight months, they alternated trips to Virginia and New York. Campbell moved in with Christenson, and in January 2022 they had a virtual wedding hosted from their New York living room. Friends and family from across the world tuned in. A friend in Scotland sang during the ceremony.
"It was really perfect," Christenson said. Several months after the wedding, the couple adopted a playful white Havanese. They named the dog JC so that both men and their pup all have the same initials.
These days, the couple tries to stay rooted in the present moment. They focus on the positive, what they're accomplishing and support and inspire each other. They've learned sign language so Campbell can better communicate.
Still, daily life as stroke survivors is challenging, especially in New York.
"Everyone is moving really fast," Christenson said. "If you don't move fast enough, or talk fast enough, you're often pushed aside. It's something you just deal with and compartmentalize."
Still, together and through their art, they're finding moments of joy and strength. Christenson is directing a play in the East Village with Campbell's help. The two also recently wrote a play about Campbell's stroke experience.
"We're trying to keep the narrative going," Christenson said. "You have to remember how far you've come, how much you've achieved, not to get swallowed by the moments of frustration or discouragement that surround a stroke. Art is a big part of that."
American Heart Association News covers heart and brain health. Not all views expressed in this story reflect the official position of the American Heart Association. Copyright is owned or held by the American Heart Association, Inc., and all rights are reserved.
By Deborah Lynn Blumberg, American Heart Association News