AHA News: A Vacation After a Heart Attack or Stroke Needs Some Extra Planning
By American Heart Association News | Copyright © 2022 HealthDay. All rights reserved.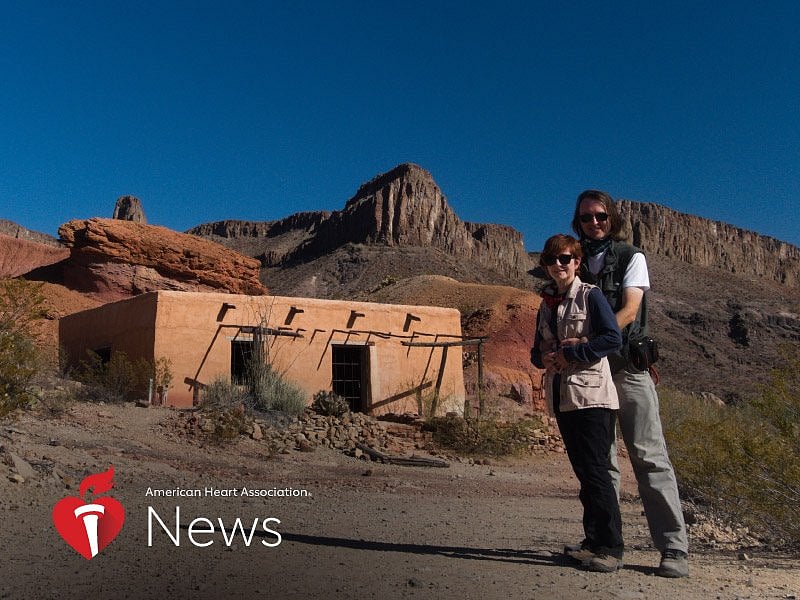 TUESDAY, June 13, 2023 (American Heart Association News) -- Karl Rorabacher, an avid hiker and cyclist, was planning a vacation to southwestern Texas when he had a heart attack at age 50.
After doctors inserted a stent to open an almost completely blocked artery, he told his cardiac rehabilitation therapists in Houston that he had one main goal: "I wanted to get back to doing the stuff I loved."
That included taking his planned trip to Big Bend National Park, where he wanted to complete the Lost Mine Trail, a 4.8-mile round-trip hike.
But first, he needed to do some extra planning. In addition to what to wear and what gear to bring, as a recent heart attack survivor, Rorabacher needed to think about issues such as how far he'd be from the nearest hospital and where he could find heart-healthy foods on his trip.
Many people struggle with how to prepare for a first vacation after a heart attack, stroke or heart surgery. Doing so can be stressful, but experts say with a little forethought, there's no reason people can't continue to enjoy time away from home.
"Travel and vacation are possible," said Alyssa Vela, a health psychologist with the cardiac behavioral medicine team at Northwestern Medicine in Chicago. "It just takes a little more preparation on the front end."
Here are some things to consider:
Are you currently healthy enough to travel?
While having a heart attack or stroke doesn't mean you can never leave home again, it's important to make sure you're sufficiently recovered and not in an unstable condition, said Dr. Willie Lawrence, a cardiologist and medical director for the Center for Better Health and Wellness, a Corewell Health clinic in Benton Harbor, Michigan.
For example, if a person had recent surgery, is still experiencing chest pain, or if their blood pressure isn't under control, it might not be a good time to take a trip, he said.
"If you're concerned, you certainly should meet with your provider and ask, 'Am I stable for travel? Is there anything about my current health that could put me at risk?'"
Should you fly?
Air travel is safe for most people with stable cardiovascular disease, according to a 2017 review paper in the journal Clinical Cardiology. However, because prolonged air travel can affect cardiovascular health, there are factors people should consider.
For example, people with underlying heart disease may be more vulnerable to changes in altitude and air pressure that may increase heart rate or blood pressure. Decreased atmospheric pressure and humidity may lead to dehydration, so avoid coffee, alcohol and other dehydrating beverages. Prolonged immobility can increase the risk for blood clots, so get up and walk around when possible. Flying also may increase physical and emotional stress.
People should wait at least two weeks after a heart attack to take a flight, according to the Clinical Cardiology review. It also suggests some people with heart failure may need to avoid exertion prior to the flight, skip in-flight food because of the high sodium content, increase hydration and consider the use of supplemental oxygen.
People who don't wish to or shouldn't fly for medical reasons might want to consider driving someplace closer to home for a more relaxing getaway, Lawrence said.
Medications
Vela advises packing sufficient doses of needed medications as well as prescription information in case emergency refills are needed while away.
And to avoid losing medications, "make certain they are with you and not in your suitcase, in case your suitcase gets lost," Lawrence said.
Since daily routines will change during a vacation, Vela suggests setting watch or smartphone alarms as a reminder to take medications on time.
What to eat
"It's easy to eat fried or salty foods on vacation," said Vela, but this can cause fluid retention and increase blood pressure. She suggests staying in places with kitchens or that have a small refrigerator for storing healthy foods, snacks and water for extra hydration.
Rorabacher carefully researched nearby restaurants for his trip, reading online menus to make sure he'd have healthy options. He also chose to rent a cabin where he could make his own breakfasts and lunches.
On the trip, which was five months after his heart attack in June 2020, he brought groceries with him but said he also looked for nearby markets and does so whenever he travels. "This has become a routine for me," said Rorabacher, who has since made trips to Utah and Greece.
Where to find emergency health care
Another extra step Rorabacher took was finding the nearest hospital or clinic in case he had a medical emergency. Because the national park he was going to was more than an hour from the nearest hospital, he knew he wouldn't be calling an ambulance if something happened and told his wife, Deb, she'd need to drive him.
"It was less than ideal," he said, "but it wasn't like I was feeling I needed to run to the emergency room on a regular basis."
Call your health insurance provider to find out what's covered should you have a medical emergency while traveling. For example, Medicare usually does not cover health care to a beneficiary traveling outside the United States.
Keep others informed
Vela said it's important to tell travel companions about your medical history, limitations and what to do if an emergency occurs.
"You want the people you are traveling with to be on the same page," she said. "Make sure they know about anything you might need support with. Set expectations for everybody to make for a more enjoyable trip."
As for Rorabacher, all of his planning paid off. He completed his trip without medical incident – including his hike. In fact, he felt so good that day he took two hikes.
American Heart Association News covers heart and brain health. Not all views expressed in this story reflect the official position of the American Heart Association. Copyright is owned or held by the American Heart Association, Inc., and all rights are reserved.
By Laura Williamson, American Heart Association News